Solely Jolie Makeup Brush Clearing Pad Review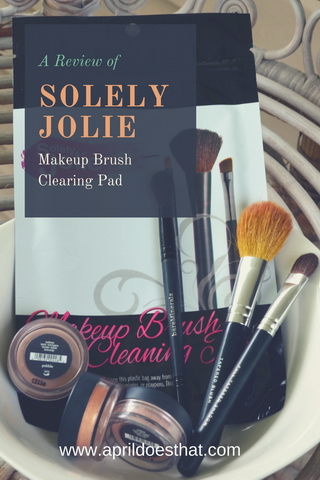 I received free product in exchange for this blog post. All opinions are my own and I do not accept products in exchange for good reviews.
Today's review comes to you with some excitement! I am in love with this new find and I just HAD to share with you. As you know I'm pretty into all natural products. I especially feel this way about the products I use on my skin. I wear makeup nearly every day and I have a HUGE stash of mineral eyeshadows. But to be honest, I don't use them that much because they can be a pain to mix and they are pretty messy.
Well I have discovered something amazing: Solely Jolie Makeup Brush Clearing Pad.
As the name suggests it is a water free solution for cleaning makeup brushes. It rids brushes of makeup, dirt, oil and dead skin. My favorite part? It can also be used as a palette to mix loose mineral makeup! This is genius! Not only does it allow me to finally mix my eyeshadow colors, but it also cleans my makeup brushes in one easy place!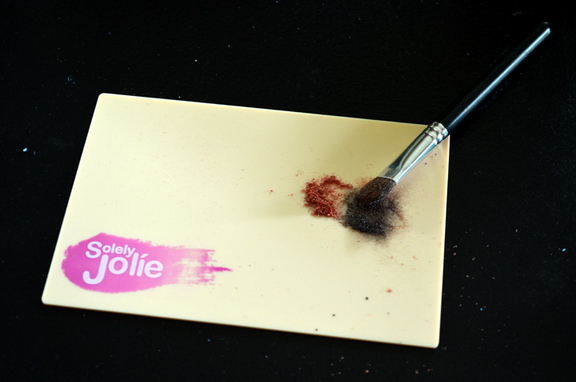 When you're done with your mixing and brush cleaning you simply rinse the cleaning pad under running water using common household hand washing soap. How convenient! Since I'm already in the bathroom this just becomes part of my makeup routine. My counter stays clean and I get to use those healthier mineral eyeshadows I've been hoarding. ;)
Solely Jolie reduces the spread of bacteria and other diseases. This allows you to keep your brushes longer and leaves your face feeling fresher.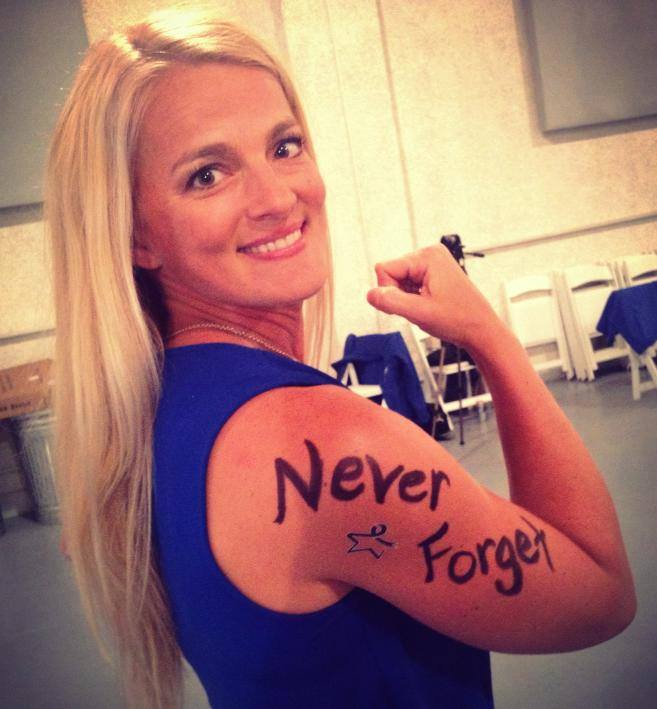 Not only is Solely Jolie Makeup Cleaning Pad a great product it is born from an amazing woman named Amy Blansit. She came up with the idea of this cleaning pad when her husband, Drew Lewis, was diagnosed with Stage IV colon cancer. In honor of colorectal cancer awareness, Drew's stepsister sent the family royal blue support bracelets. Immediately, the bracelet became a part of her everyday attire.
One morning, while wearing the bracelet, she was clearing excess color off her makeup brush by brushing it along her hand. Accidentally, she ran the brush past her bracelet. A lot of makeup was removed from the brush and deposited on the bracelet. It became her daily routine to use the bracelet to remove excess makeup from her brushes between colors. It was more sanitary than using a hand or hitting the brush over the sink, and it also did a better job.
She decided to investigate to see if there was a similar product on the market. When she was unable to find anything she started searching for ways to develop a product that could be washed easily and was extremely durable.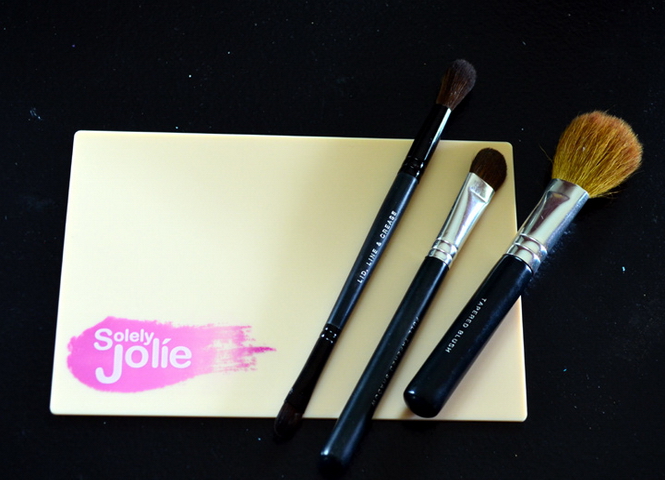 So after a lot research and hard work Solely Jolie was born. In addition to being an excellent product a percentage of proceeds will be donated to cancer prevention through the Drew Lewis Foundation to address poverty and health initiatives. This story began with colon cancer but it continues with hope for a better future.
Check out this quick video that shows you exactly what Solely Jolie is and how to use it!
Solely Jolie can be purchased at www.solelyjolie.com and you can follow them on Instagram, Facebook, and Pinterest.
Try out your Solely Jolie by ordering above with a special code just for you dear reader enter aprildoesthat for 15% off at checkout.
Stay Crafty!

Comments
No comments made yet. Be the first to submit a comment
By accepting you will be accessing a service provided by a third-party external to https://aprildoesthat.com/