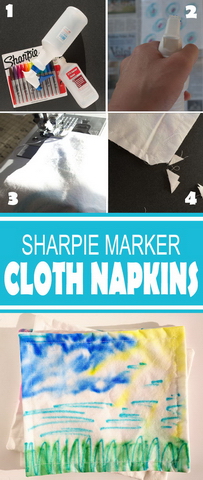 A Guest Post by June Rostad
I love hosting dinner parties, especially during spring time because I can whip out my indoor tabletop grill. If you haven't had Korean BBQ from a Korean mama before ... it's so delicious. Anyways, six of my closest friends are coming over. I wanted to spruce up the dinner table some, and thought making these Sharpie marker spray kid-art cloth napkins would be super cool. The best part is having the kiddos unleash their creativity. I loved what they drew.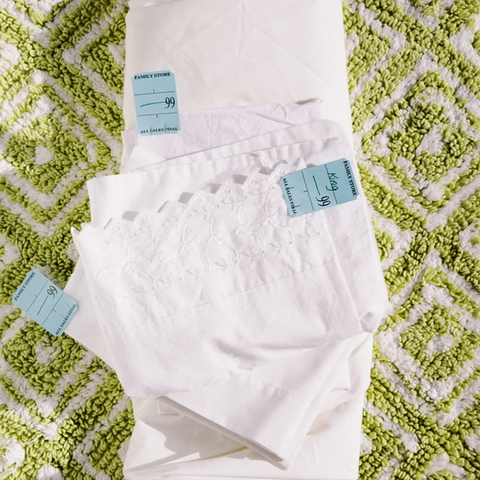 Salvation Army's half-price day is awesome. A king-sized sheet and two pillowcases. That's a $1.50, baby. For this project, I mainly used the pillow cases because they were easier to handle. I was able to get 8 cloth napkins out of a king-sized pillow case, so you could really make an entire set for like 50 cents.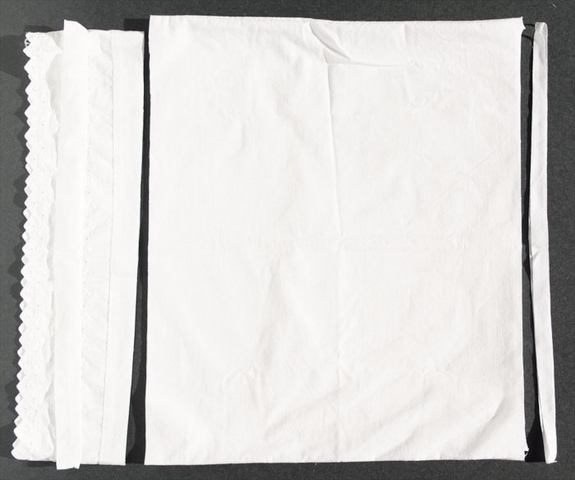 This pillowcase has a decorative trim, so I folded the pillowcase in half, excluding the trim. I then rotary cut the left and the right sides off.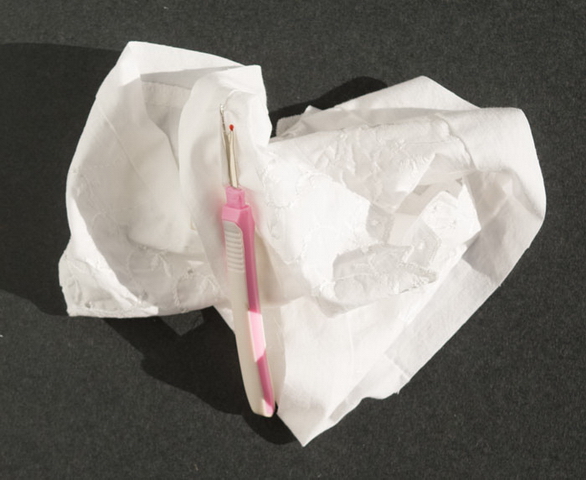 I save the trim to use for another project.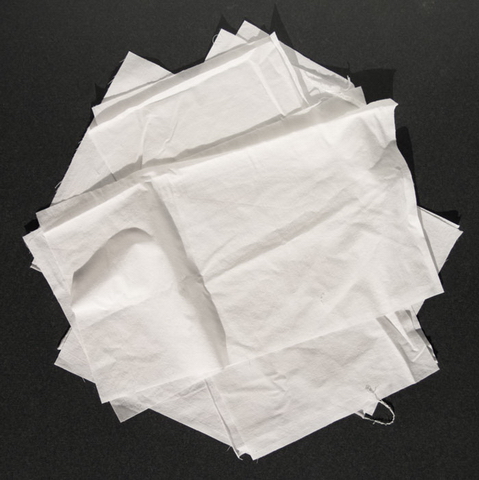 Cut the pillow case up into equally sized-rectangles. You will divide them in half to make the cloth napkins, so the rectangles should be about half the size of the napkin that you want.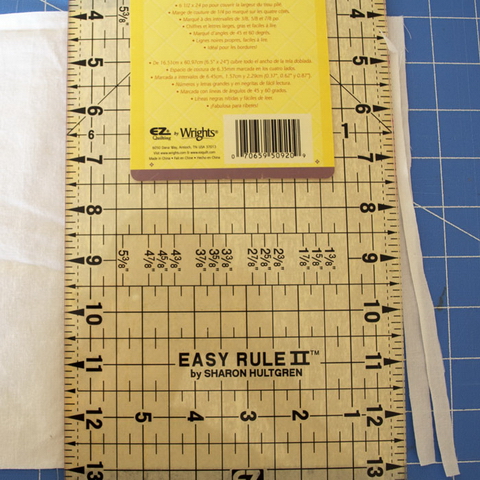 Rotary cut each rectangle to make it nice and even. This step isn't totally necessary if you are going for the kitschy look.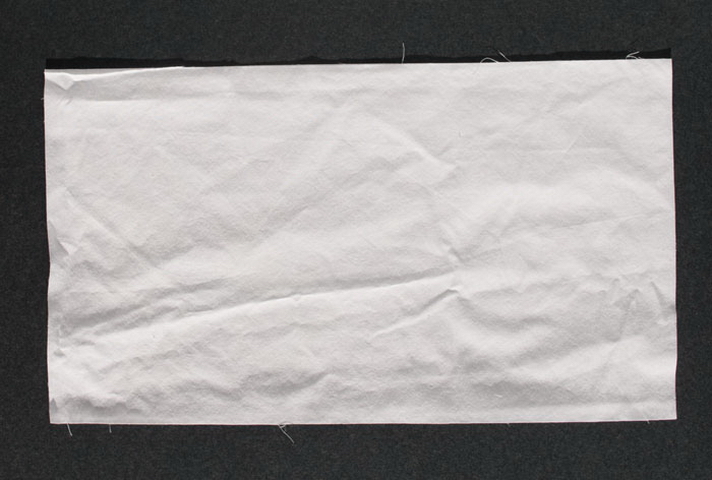 Here's my rectangle, all cut nicely.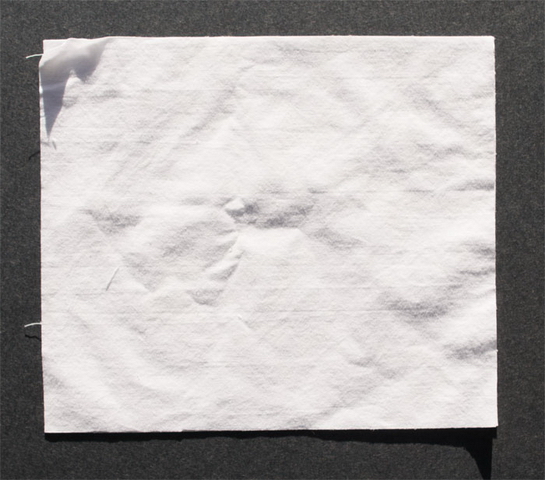 Cut in half.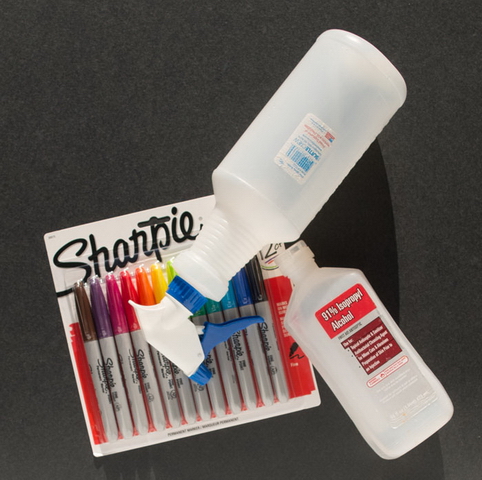 You need an empty spray bottle, Sharpie markers, and bottle of rubbing alcohol.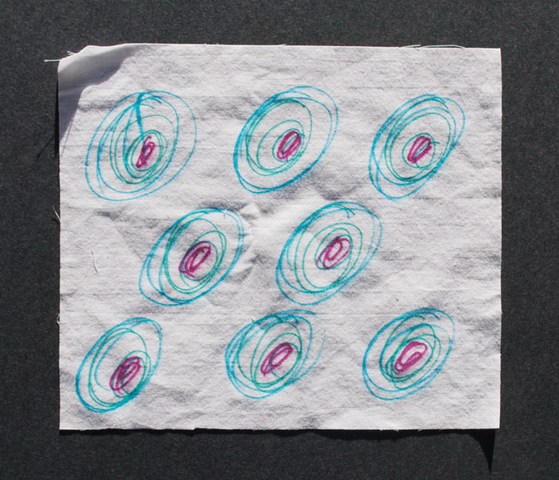 Let the kiddos go to town! It's important here to keep the two halves together, just in case the sizes are different.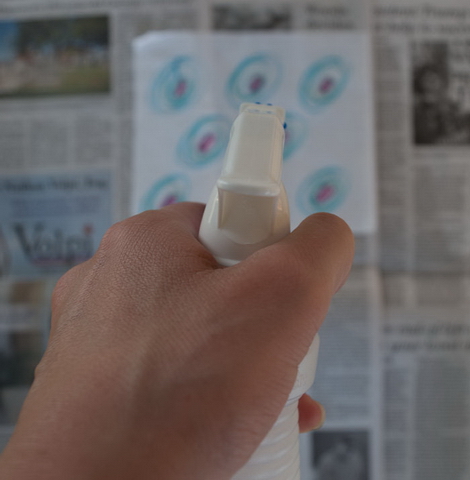 Put the rubbing alcohol into the spray bottle, and blast the new kid-art with a few squirts! Make sure you have some newspaper, although rubbing alcohol is rather harmless (unless you're a Sharpie marker). You should see some blurring together. Letting the design sit in alcohol will make it a little runnier, but not much, so spray to your liking.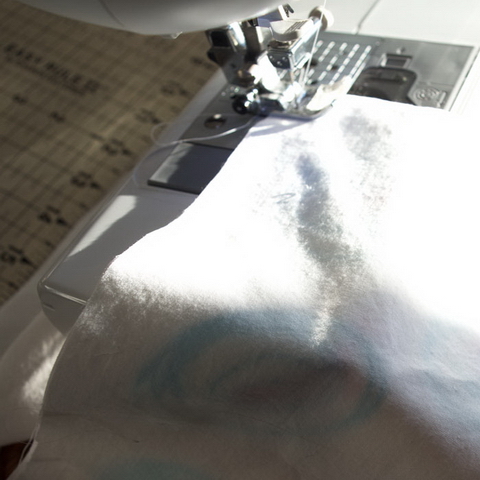 Sew the sides together, inside out. I used 3/4" seam allowance. Make sure you leave a small hole somewhere, e.g. don't sew the napkin all the way shut.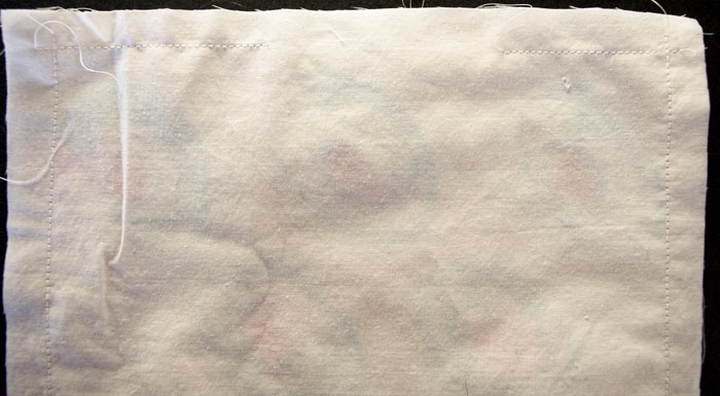 Can you see the hole that I left?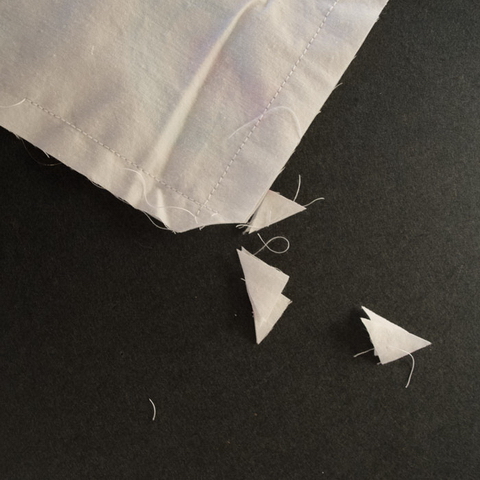 Cut off the corners.
And turn inside out. I used a chopstick to poke the cloth into the corners.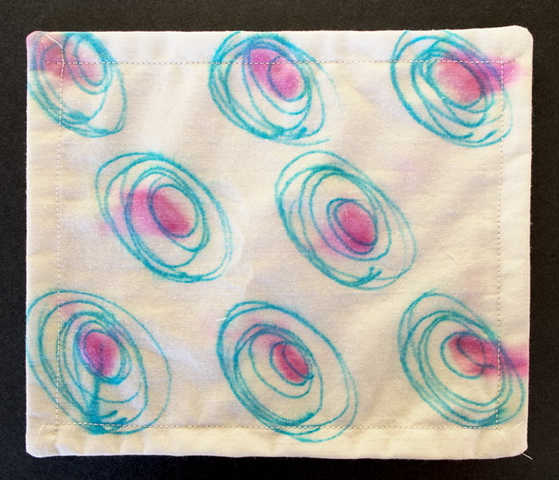 Sew the napkin all the way around using a smaller seam allowance (mine is about 1/2") than when the napkin was inside-out. This will sew that hole shut without having to do any pesky hand-sewing.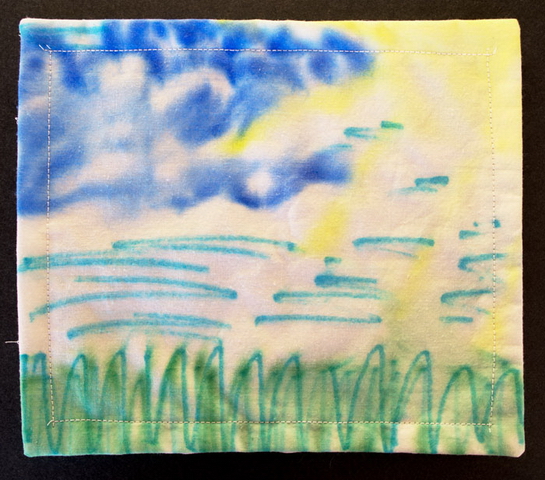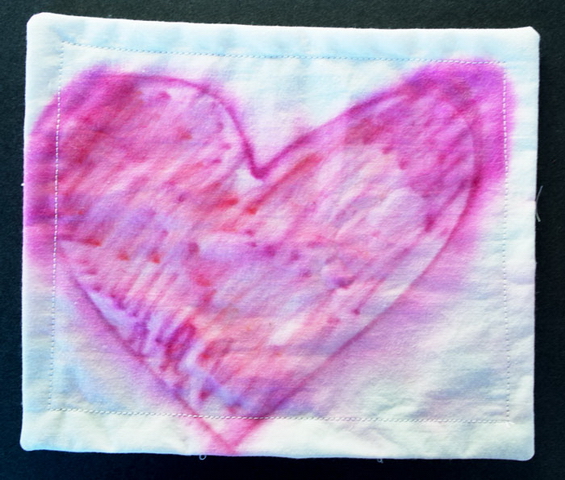 Here are two other napkins. :) I love the clouds and sun scene! Looks very impressionistic!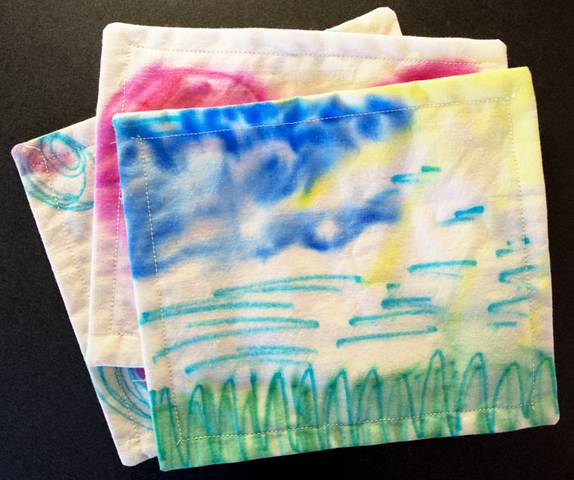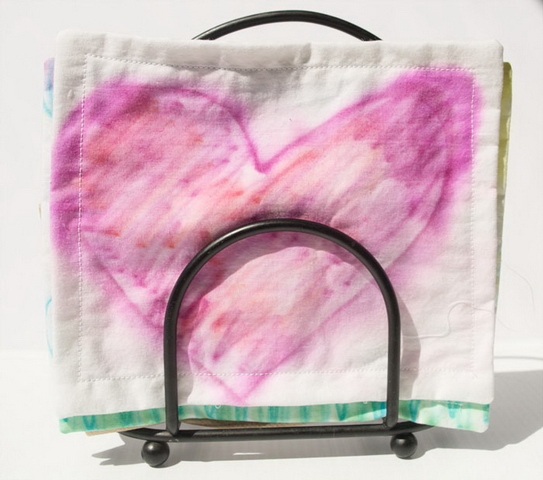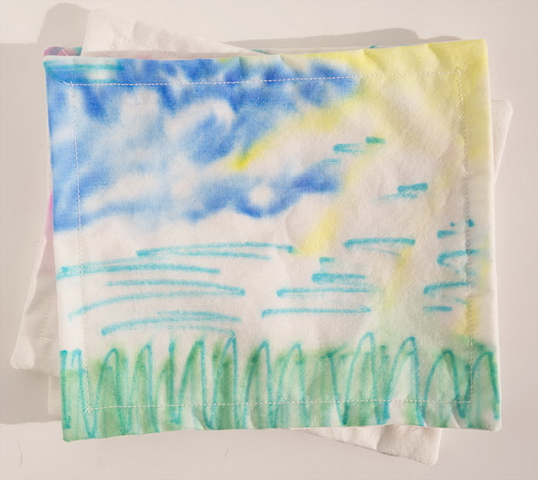 The Finals.
This project was a really fun way to spend an afternoon with my kids. Even teenagers love seeing their own art-work. Reminds me of sticking up an art project on the refrigerator. My girls did their own sewing, but you might have to help younger children. Don't worry too much about making your sewing "perfect" -- not only is this a great kid-project, but it's also a great beginning sewing project. Most sheets are cotton, so they make for great fabric. I let my daughter draw on the other pillowcase, and then made her a shirt. And I drew on the bed sheet and made a bunch of sofa pillows for the spring.
June Rostad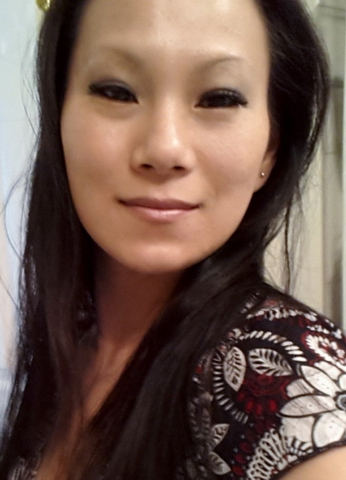 Let Go of Being Perfect
http://letgoofbeingperfect.com
June Rostad loves to refashion clothes that she finds at thrift stores. She also takes so many photos, her Nikon dSLR can't keep up. She blogs about her sewing and photography adventures.
You can find June on:
Pinterest: https://www.pinterest.com/refashionistas/
Twitter: https://twitter.com/letgoperfect
FaceBook: https://www.facebook.com/upcycledfashionista/
Google+: https://plus.google.com/u/0/109732733847899462566
Instagram: https://www.instagram.com/refashionistas/