Super Easy Toddler Quilt
While my twin nephews are staying with us, I want them to feel as much like a part of the family as possible. And in my family we have a new tradition. We all have our own quilts for our beds and to snuggle with. I've kind of become obsessed with quilting. The great thing about quilting is that, as long as you know the basics of sewing, you really can make a quilt at just about any level of ability. I decided after making a couple quilts from patterns that I'd try my hand at making a quilt pattern myself. I wanted it to be quick and easy as pie. I wanted to be able to finish them both in a day so that my nephews could enjoy them almost immediately and I'll be honest I wanted them to be easy because sewing gets frustrating to me when it's too complicated. My kids already have their own quilts on their beds and for the couch so I decided to make the twins each a quilt that had robots incorporated since that's their favorite word right now. I also included two plaids and two solids.
First I set to work figuring out measurements. Like anyone else, I googled a normal toddler or crib sized quilt and found measurements. I knew for sure after making this quilt for my bed (Pictured below directions here) that I love working with 8 1/2" squares.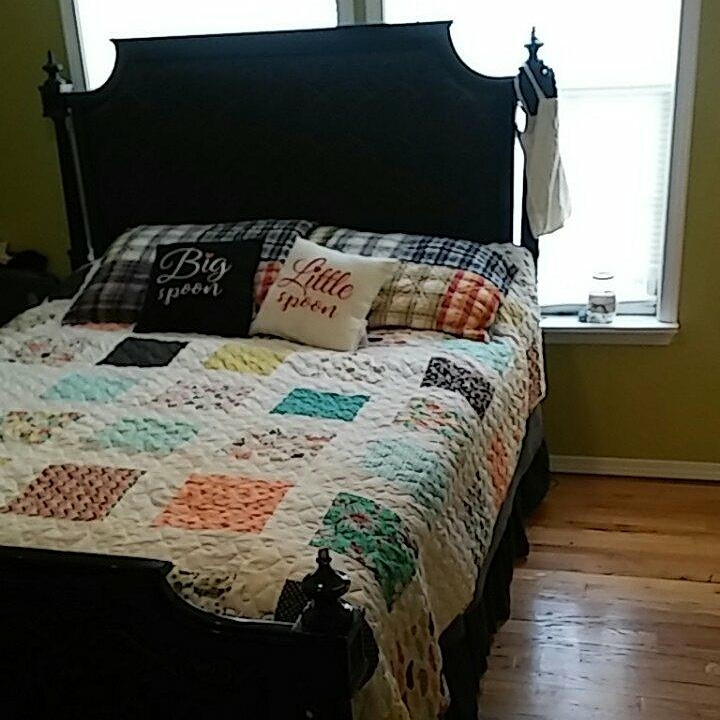 They are big and therefore fast. I also knew that I wanted to incorporate some strips into it and settled on size 4 1/2" I took the width measurements and divided it by 8.5 and came up with about 5 squares wide. I drew out what I wanted my finished quilt to look like and my finished quilt is 40" x 56" which is just a tiny bit bigger than an average toddler quilt.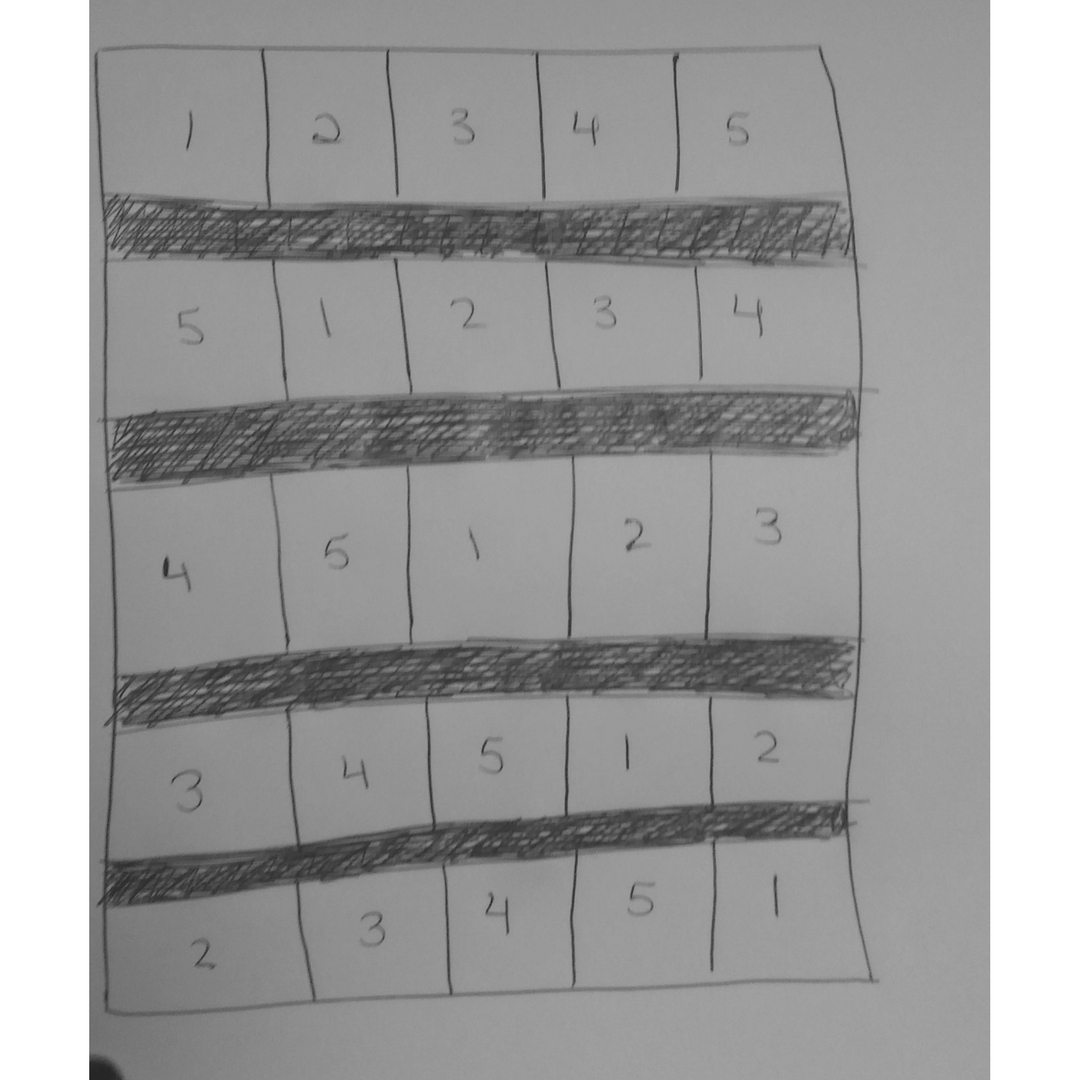 To start this pattern you will want to make a template for cutting out squares. I used paper but cardboard would probably work even better. I used 6 different fabrics but I think it would look better with 7.
What I used:
about 2 yards of robot fabric
1-1/2 yards of 4 other coordinating fabrics
about 2 yards for the back of the quilt
A little more that 1 1/2 yards batting
You need to cut 5: 8 1/2" squares out of 5 different fabrics (25 squares total)
You need to cut 4: 4 1/2" x 40 1/2" strips out of the fabric you have 2 yards of or a another fabric if you choose.
I made my square alternate in each row so that they made a diagonal pattern.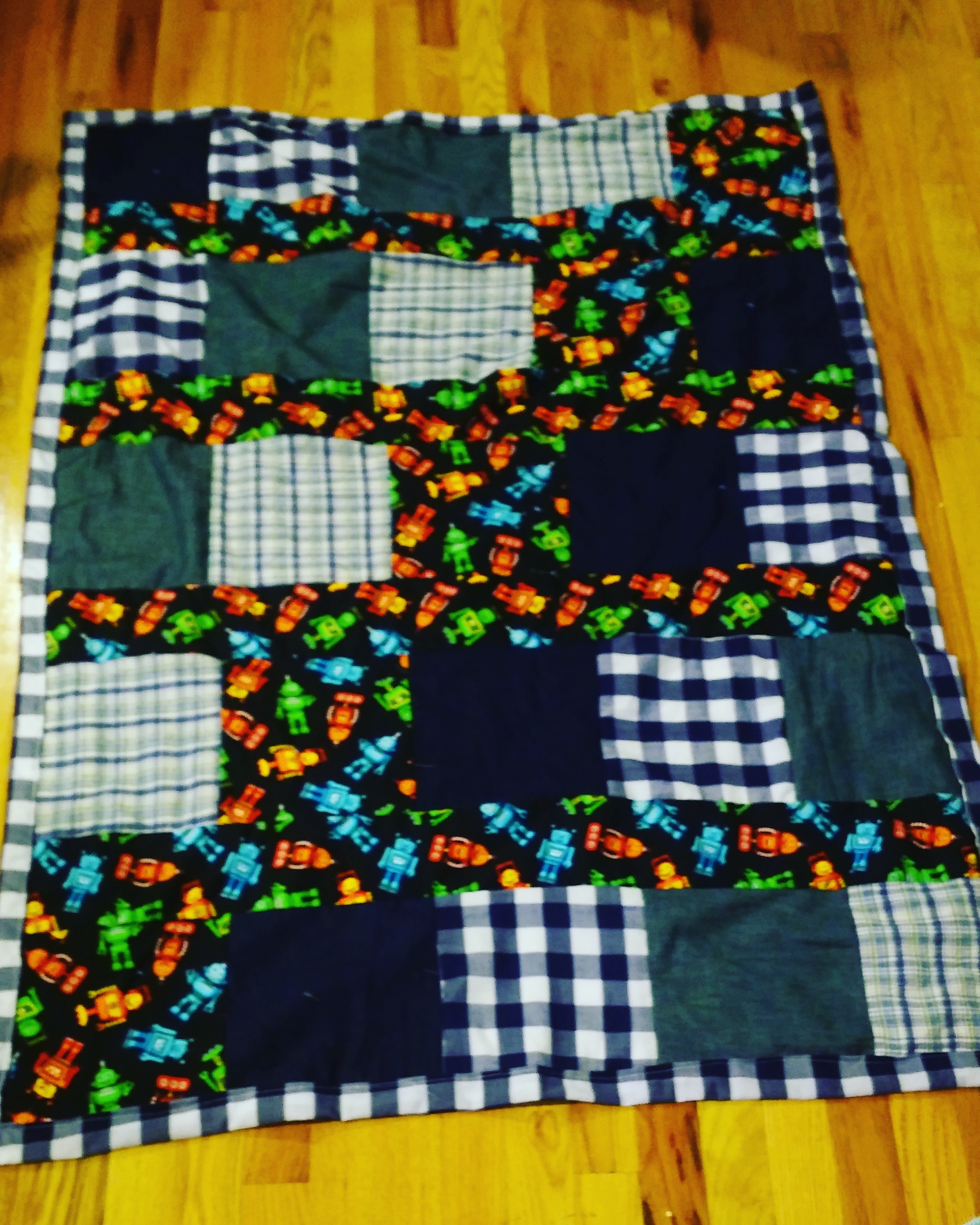 Sew your blocks together into strips of 5 blocks following the above pattern using a 1/4" selvage. Next sew your strips together alternating between 8 1/2" blocks and 4 1/2" strips. Be sure to keep track of your pattern as you sew your strips together. I backed my quilt with one of the plaids I used on the front and simply folded the edges over twicw instead of using binding. Then I tied old school yarn knots instead of quilting my blanket. I completed both of these quilts in one day so it really is a quick and easy projects. If you make this quilt be sure to share it with me! I'm so excited to see what you come up with. Quilt on and Stay Crafty!

Comments
No comments made yet. Be the first to submit a comment
By accepting you will be accessing a service provided by a third-party external to https://aprildoesthat.com/