Senegence Silk Pore & Wrinkle Minimizer Review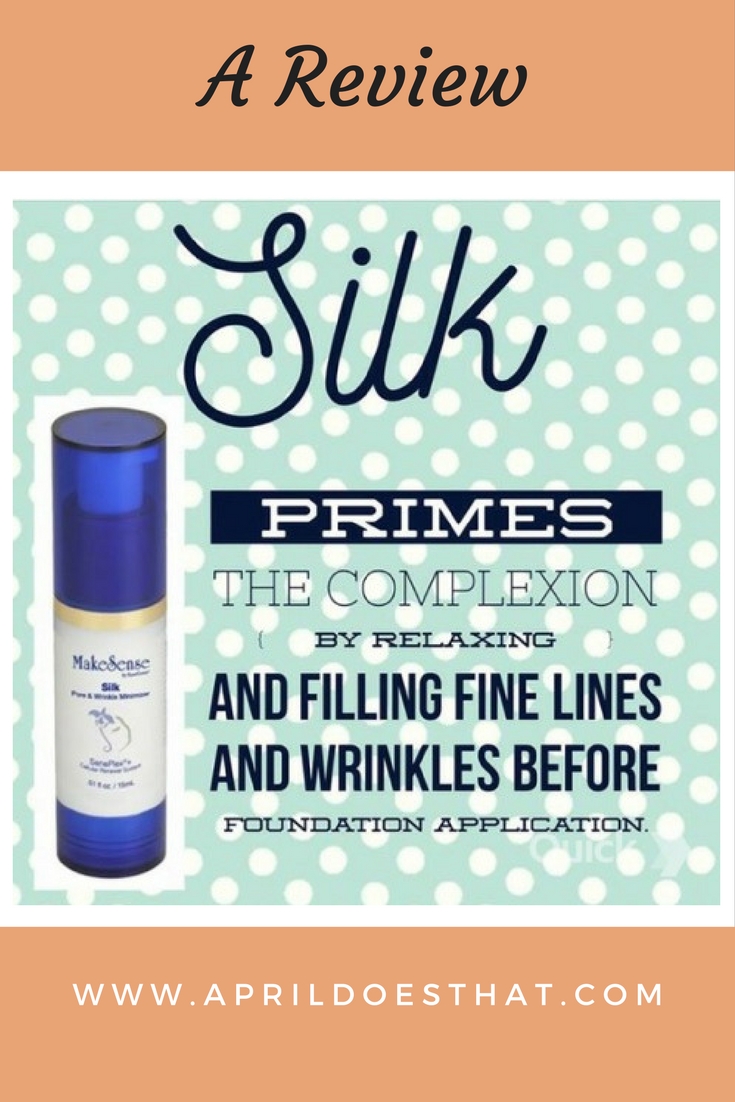 I received free products in exchange for this blog post. All opinions are my own and I do not accept free products for positive reviews.
This week I am sharing another Senegence product with you. My friend Shannon gave me a bottle to try along with my foundation. It's called Silk. It's used as a primer, a pore minimizer and wrinkle reducer. It comes in an airtight bottle that keeps it fresh and helps you to use every drop. I have been using it for about 2 months and have used about 1/3 of the bottle. Silk has the following benefits.
Primes complexion by relaxing and filling in fine lines and wrinkles before foundation
Firms and tightens by helping to enhance collagen production of the skin
Minimizes appearance of pores and wrinkles
Evens skins tones and discoloration caused from harmful UV ray exposure and helps naturally repair damage
Hydrates and nourishes skin with natural ingredients such as lavender blue seaweed orchid and algae
Helps reduce signs of aging with Seneplex complex a patented compound that increases cellular renewal
Key ingredients reduces dry and rough skin keeps skin moist and smooth improves health of the skin
Orchid flower, antioxidant fights free radicals, sunscreen
Manufactures elasticity
Vitamin A cellular renewal properties, Jojoba aids in prevention of moisture loss
Spiralina
Protects collagen and elasticity
Vitamin B formation of new healthy tissues
Vitamin c sunscreen
Vitamin E maintains activity of enzyme inhibits skin cancer and skin ailments weapons against aging protects against oxidation.
So what do I think of it? At first my nose was breaking out in tiny white heads when I was using it. I think this was a result of my pores shrinking and the inevitable result was a tiny breakout. This only lasted a few days and I have seen a big difference in the size of my pores. As far as my wrinkles, I don't have many. But I do feel like Silk really improves the smoothness of my skin especially with the foundation. My foundation is smoother and stays longer with Silk. I didn't mind the tiny break out I had because I did see an almost immediate result of smaller pores. I would reccommend this primer, for sure, if someone was looking for a quality one.
Silk is very lightweight and simple to apply. The only difference between this and another primer is that you are instructed to apply it in a downward motion. This downward motion closes pores and hair follicles. As usual you then apply your foundation in an upward and age defying direction.
So do you want to give it a try? Get ahold of Shannon and mention my blog for 10% off your primer!
Meet Shannon!
She is a 47 year old mom of two wonderful kids! She works at LegalNet Inc. (working with insurance) 3 days a week and spend her days off in the volunteer ministry. She started her own business part-time with SeneGence a few months ago to not only help her own confidence but create a part-time income by helping ladies feel good about themselves and hopefully support herself in time to reach some (spiritual) goals and pay off some unexpected bills without having to work for someone else. She fell in Iove with the LipSense and then discovered all the makeup and skin care was just as good as the LipSense!
Contact Shannon by looking her up on her Facebook page Shannon's Sassy and Classy Cosmetics or email her at This email address is being protected from spambots. You need JavaScript enabled to view it.
Comments
No comments made yet. Be the first to submit a comment
By accepting you will be accessing a service provided by a third-party external to https://aprildoesthat.com/