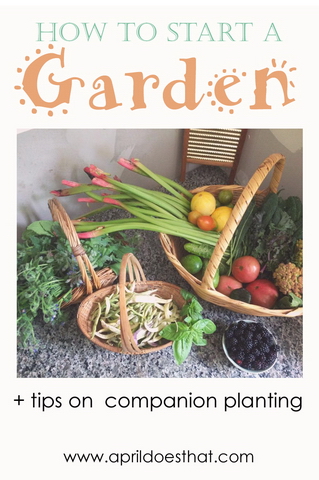 This post contains affiliate links
Every year we have a garden and every year I learn a little bit more. The main thing I've learned is that it IS work and the harder you work, usually the better your result. Sometimes that's so true that you have fruits and veggies coming out your ears! Where do you get help with gardening? One of my main sources of information and help with my garden is my friend Cherrelle. She is simply amazing.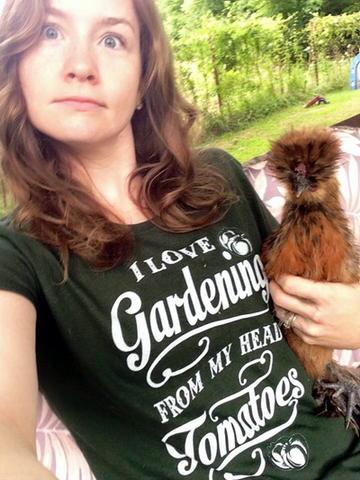 Cherrelle and her family live just outside of town on 5 acres of land. She has egg chickens, a berry orchard, fruit trees and several raised beds. She knows all about companion planting to keep the most pests away from the goods and also to compliment each other in growing. She has the best yield and preservation tactics I've ever personally seen and did I mention she also homeschools and manages her household?! You can see why I turn to her when thinking about planning my garden! Take a look at her garden plans you guys.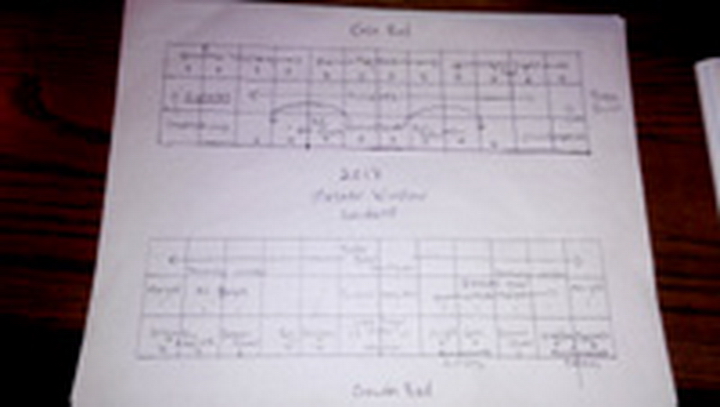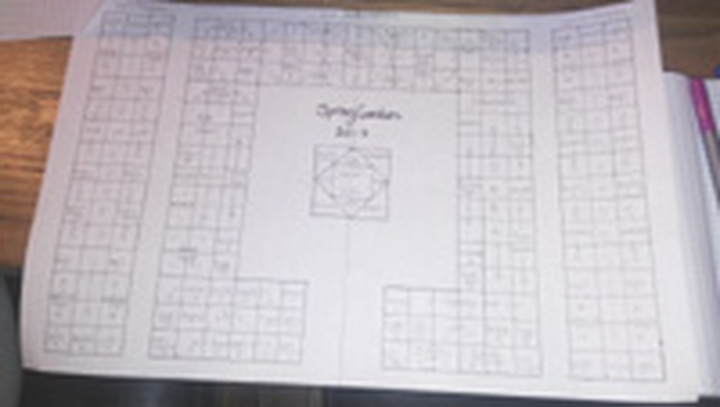 So before I show you what we planned for the Huggins 2017 garden take a look at a couple of hacks Cherrelle has come up with. First of all if you are going the seed route, she said she's tried the whole saving yogurt containers and things like that but the best results really do come from those tiny greenhouses with artificial or south facing window light.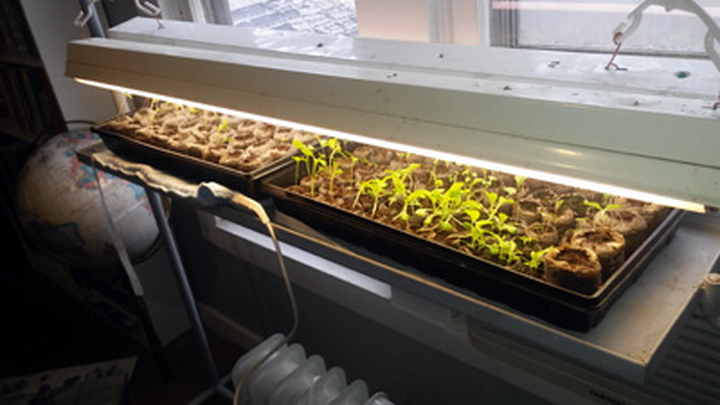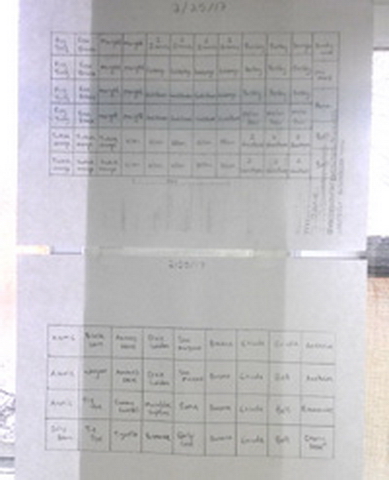 Check out this hack to keep your sprouting seeds straight. She draws a diagram of what is planted and marks the top left corner of the container so she will know exactly what is sprouting. I used a sticker on my top left corner. Speaking of seeds.
Look at how she has her seeds organized. She organizes them first in the box by type to make them easy to find. Then when planning her garden she seperates them by companions, writes what is in the bag and highlights the ones that can be planted before last frost.
Okay we can take a look at what Cherrelle helped me plan for my tiny plot. I was shocked by how much food I can grow right in my backyard and how much space I have not been utilizing over the past few years. Our garden is relatively small but with the help of Cherrelle and the tactics of square foot gardening I hope to have the most successful year yet. We started out by planning around my seeds. I signed up for Mike the Gardener's seed of the month club. His seeds are non-GMO and heritage. The first month you get 8 packs of seeds and every month after you get 4 packs. They are appropriate for your zone. I signed up for 6 months and I'm excited to see how they grow. Want to try them out with me? Follow this link.
The seeds I had to plan around from the seed of the month club are: Collard Greens, Eggplant, Purple Bell Peppers, Centaurea Cyanus (a tall flower), Floradade Tomato, Curshaw Green Striped Pumpkin, Alyssum ( a flower) Minnesota Midget Melon, Scallop Bennings Green Tint Squash, Straight Cucumber, Heshiko Onion, Salsify, Fava Beans, Fennel.
I also have other seeds that I've collected and you'll see those planned in the garden. To tell you the truth I've never done that well with seeds so I'm excited to see how it goes.
A few things I picked up while chatting with Cherrelle:
Tomatoes pair well with Carrots.
We put sage with my cabbage and broccoli because like any herb it defends against many pests broccoli is prone to and cabbage and army moths.
Marigolds are good for borders because they stink to bugs and deter them
Sweet Alyssum is good for borders because it attracts parasitic wasps that are a defense against caterpillars that prey on vegetables.
Tall flowers are a good defense for lettuces because they hide them from pests flying overhead and from the heat of the sun as summer approaches.
Nasturtium deter pests of all sorts.
Fennel is apparently very mean and must be planted away from most other things in my garden
Brassicas like Broccoli need to be away from other Brassicas.
We employed the 3 sisters technique in my small skinny bed which is corn, beans and squash. The corn is given a head start. Then the beans grow up the stalk and the squash covers the ground discouraging weeds. Genious! Cherrelle has adapted this technique on the other end of this bed by using sunflowers with melons (cucumber) and potatoes.
Radish pairs well with cucumber because it protects against cucumber beetles (she said even if I don't like radishes to plant them there)
Here's my garden plan you guys. I am so excited.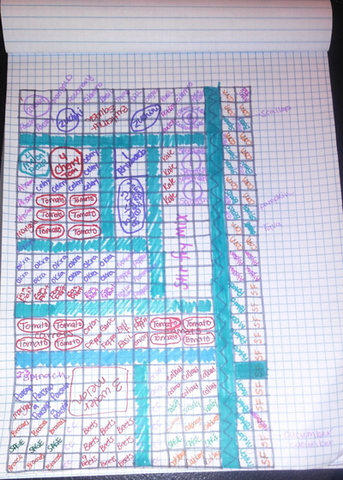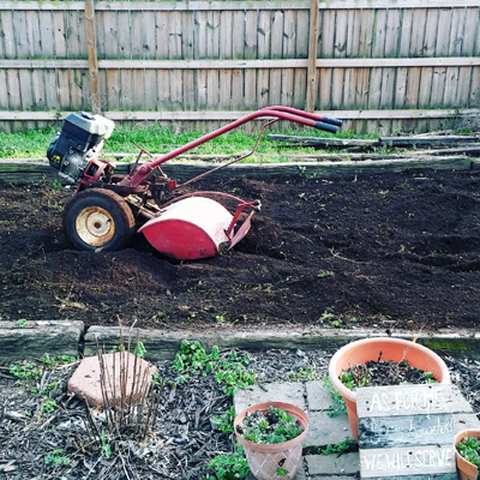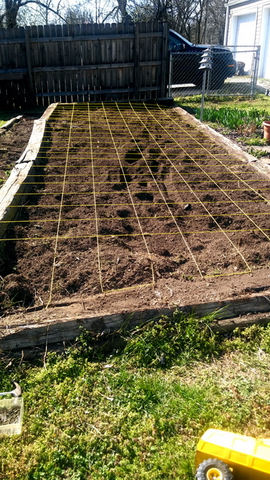 I have one more gardening tip to share. I am a highly visual person and usually I can visualize what things will look like but when it came to planting, this year i wanted it to be just right. So, I had my husband put a nail along the edge of my garden every foot. Then we were able to use yarn to section off each square foot. It made planting the seeds I could plant so much easier than usual because I could figure out exactly what square of squares it belonged in. What do you think of my idea?
I definitely have spring fever and the garden is tilled and ready for planting. I'm looking forward to sharing my progress with you. Do you garden? What have you already been up to? What tips and tricks do you have for me to make me more successful? Please share your gardens with me. I love to see what you are up to! Tag me on Facebook or Instagram or email me at This email address is being protected from spambots. You need JavaScript enabled to view it. and as always Stay Crafty!