Homemade Gift: Toddler Scarves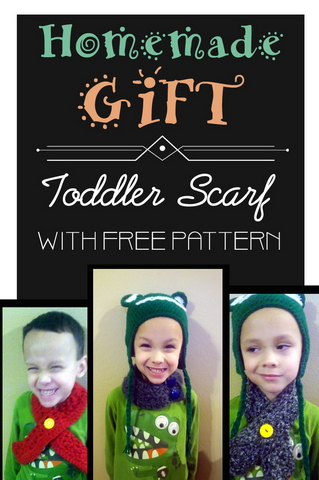 As you may have figured out I love to make homemade gifts. I feel like the receiver can feel the love I put into making it. One of my favorite things to make is scarves for my nephews (and my kids). Well I've been slacking off and it's already the middle of January! So it is time to get these scarves in the mail!
Traditional patterns for scarves are either infinity or just a wrap around but I like my littles to be just a little safer than that. I add snaps so if push or pull comes to shove they will snap off and their little necks will be safe. Safe and cozy little necks! That's the winning recipe.
Another thing about scarves that I don't love is they usually take forever to make. I don't love crocheting but I do love crocheted things. This is the best of both worlds. This scarf is adorable but it also is so quick! Under an hour and you are done my friend. And don't worry about buying multiple skeins. You'll use less than one.
So here is my FREE pattern for you!
Supplies:
Super Bulky Yarn
9mm crochet hook
yarn needle
Big snaps
button thread
needle
Buttons of choice (for decoration only so optional)
Abbreviations:
ch: chain
dc: Double crochet
st: stitch
Longer scarf (as pictured)
1. Ch 63 (for long scarf) 53 (for medium scarf) 43 (for cowl)
2. Dc in 4th st from hook # skip 2 st, dc,ch1,dc (in the next stitch) # Repeat until end of row from # to #
3. Turn DC in first st ch 1. #skip 1 st, dc,ch1,dc( in the next stitch) # Repeat until end of row from # to #
4.Turn DC in first st ch 1, DC across row.
5. Repeat last row if you want your scarf thicker.
6. Tie off and weave your ends in.
7. Attach snaps to an inside and outside edge so they match up. Use button thread to make sure they stay secure.
8. Snap your snaps and add your button or buttons to the outside. Voila you're done!
This will fit 18 mos-5 years. Probably longer. You can just move the snaps accordingly.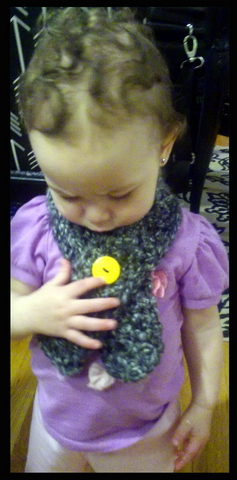 Here's what it looks like on my baby. :)
This was my first crochet pattern. I made it out of necessity because I couldn't find a pattern I liked or that I could follow easily. I'm definitely a begginer crocheter so if I can do it, you can too! If you have any issues with the pattern email me and I'll try to help you figure it out. I used to sell these little beauties but I have found I don't have a lot of joy in crocheting, but just for you dear reader, I am doing a give away. Your choice of yarn color, size and button color. All you have to do to enter is email me at This email address is being protected from spambots. You need JavaScript enabled to view it. and use the subject line Toddler Scarf and you will be entered to win. Contest ends March 1,2017.
Also if you like that frog hat my son is wearing I found the cutest little pattern at Reapeat Crafter Me.
https://www.bloglovin.com/blogs/repeat-crafter-me-3584669/crochet-frog-hat-pattern-2559816521
Check it out!
I hope you enjoyed my first crochet pattern. Keep those littles warm, cozy and safe! And always Stay Crafty!
April
Comments
No comments made yet. Be the first to submit a comment
By accepting you will be accessing a service provided by a third-party external to https://aprildoesthat.com/