DIY Upcycled Throw Pillows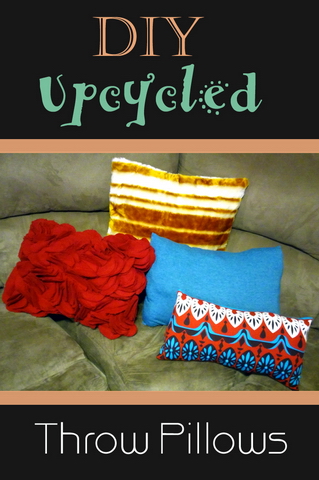 I'm in the midst of redecorating my adjoined living room, dining room and kitchen. I'm adding some blues into my red and goldenrod yellow pallet. When it warms up I intend to paint my red wall a calming blue. My decor style is somewhat busy. Blame it on my busy mind. I love color. I love patterns. I love themes. I also love cheap! Let's talk about an easy way to bring some pops of color into my home. Throw pillows! But have you priced those lately? They are not cheap. I looked at some of those bad boys the other day. They are expensive. Like $20 a piece! What?! Well this tutorial combines some of my favorites. Cheap, easy, colorful and patterns. I pulled out my gifted bag of old clothes from one of my favorite friends and searched for colors I wanted to bring to the living room. I found some blues and a pattern of course. I also decided to cover an old plain black throw pillow with some fun fur fabric I found at my Gran's house. So with my old t-shirt, old skirt and Gran's gifted fabric the only thing that cost me anything was the polyfil (which I already had on hand.) So let's get started and turn out some pillows. I made all three of these pillows in about an hour.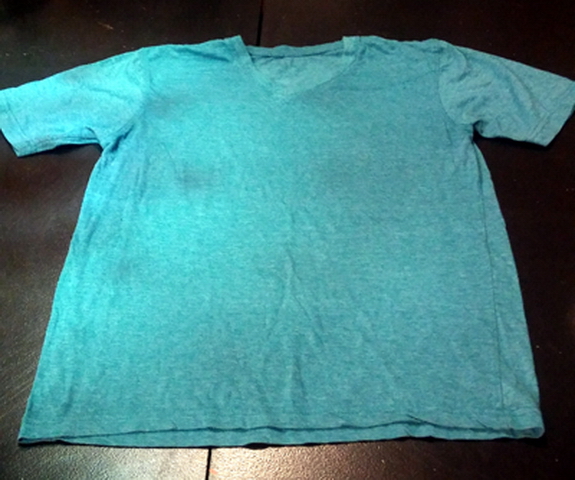 The first pillow I made was out of an old t-shirt. I like to keep as many seams as I can so I made a rectangular pillow using the side seams of the shirt and cutting it right under the armpits and cutting off the bottom seam.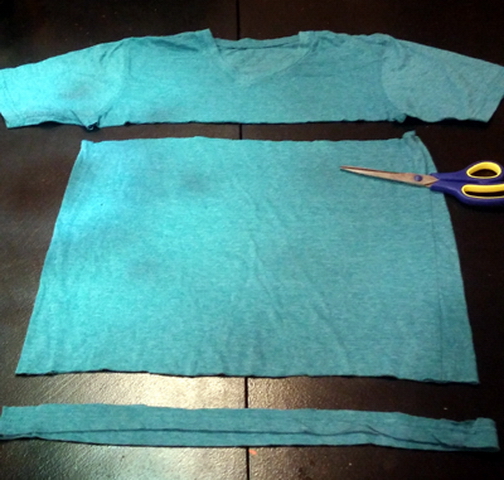 Turn your pillow inside out and bring it to the sewing machine. If your shirt has any stretch like mine does you need to use a zigzag stitch.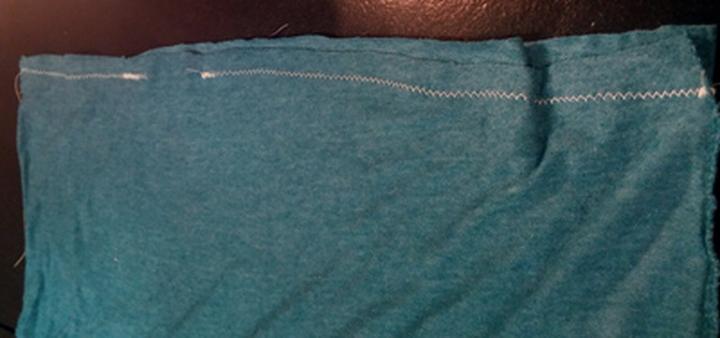 Make sure to leave a gap for stuffing on one side and backstitch at the opening. Stitch up the other side of the pillow completely. Turn your pillow right side out and stuff it very full. Break up any lumps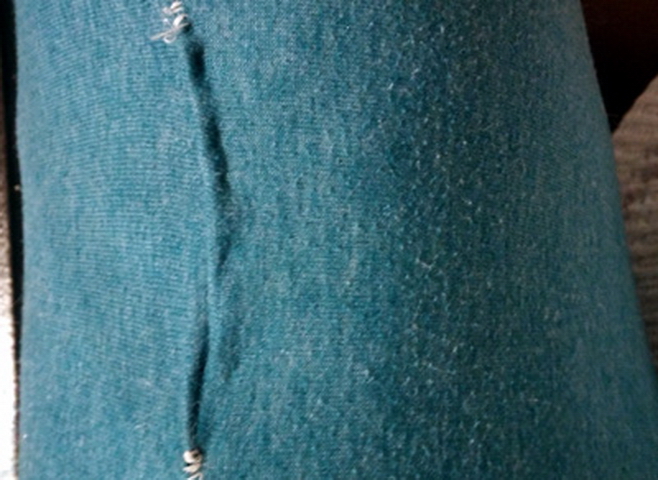 Whip stitch the hole closed. Tada t-shirt pillow.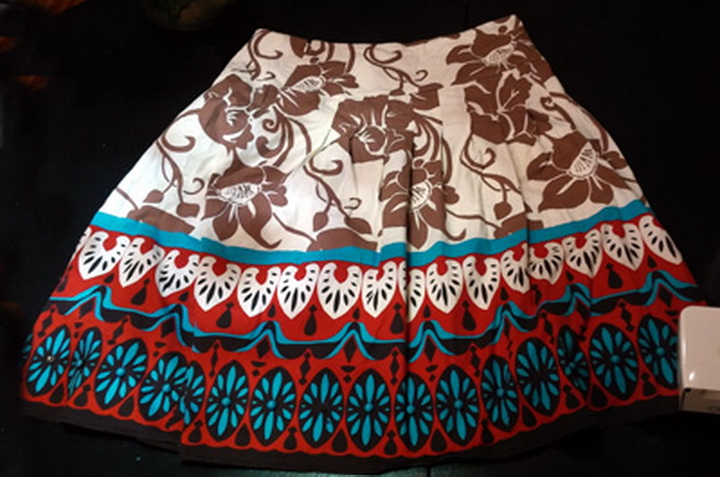 Next I cut up this pretty little skirt.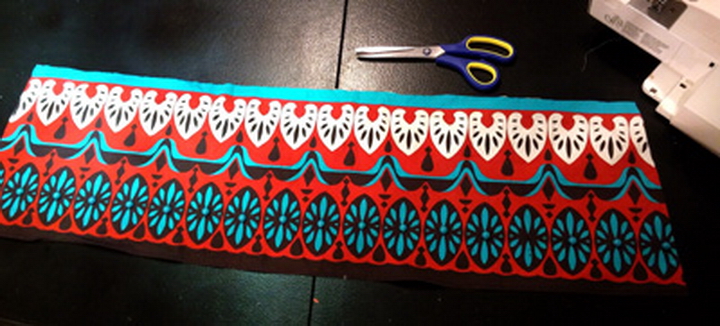 I folded it in half so I would have one less seam to make.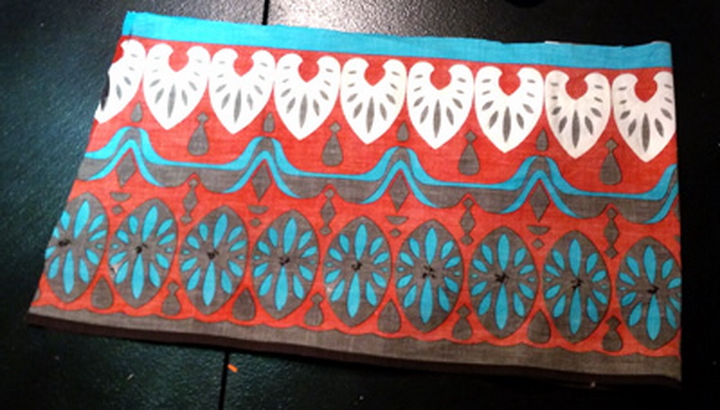 A straight stitch works fine for cotton fabric. Be sure to leave a gap for stuffing (preferably at the bottom of your pillow) Turn your pillow right side out stuff and whipstitch it up. Last but not least I covered my black pillow. I used my pillow as a template of how big the pillow was and cut out the fabric just slightly bigger. You know cuz you have to shove your pillow inside of it :)
Put right sides of your fabric together. Sew it up leaving a gap big enough to shove your pillow through. But since you will have corners with extra fabric make sure you clip the edges off up to the stitches.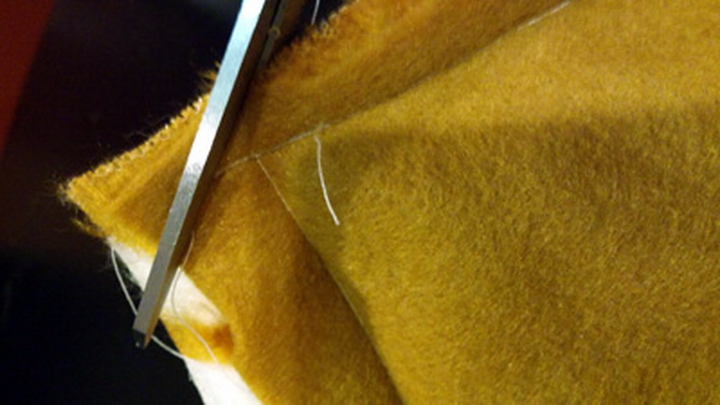 By trimming the corners your corners once turned will be sharp. Turn your pillow right side out and you guessed it, shove your pillow in there. Whip stitch your hole closed. That's it you've made three brand spanking new pillows for basically free in an hour or so. You would've spent that long going to the store to look at pillows and discover how outrageous they are! Well here's the finished product along with a thrifted pillow that I love.
What do you think of my upcycled pillows? Are you going to make some for yourself? Have you ever done a project like this? Do you have more ideas for upcycling old clothing? Share with me. I love to hear from you! And I love to see your projects. See you soon and as always Stay Crafty!

Comments
No comments made yet. Be the first to submit a comment
By accepting you will be accessing a service provided by a third-party external to https://aprildoesthat.com/