DIY Manly Windchime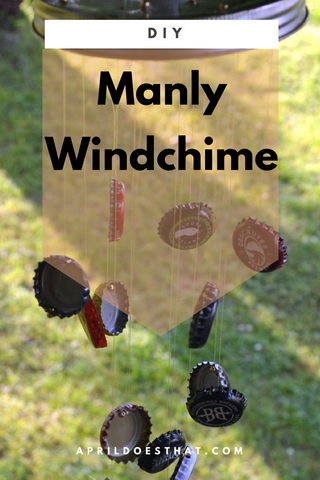 This post contains affiliate links. We are a participant in the Amazon Services LLC Associates Program, an affiliate advertising program designed to provide a means for us to earn fees by linking to Amazon.com and affiliated sites.
Guys are hard to buy for and I think they're even harder to craft for. For the most part I don't even try anymore I just ask Joshfor exactly what he wants. But once in awhile inspiration hits me and I come up with a crafty idea that makes my husband smile and let me tell you it's quite a smile!
I've been collecting beer caps for awhile now and trying to think of something spectacular to do with them that my husband would be excited about. I have a few projects up my sleeve but the one I'm sharing with you today is a windchime. Now that might not sound super manly but I mean come on it's made from lids, fishing line and beer caps.
I thought about this project a lot before I asked for Josh's help with the technical aspects of it. I wanted it to be easy to make with things already around the house. I found a metal lid that goes to my giant jar I use to make sauerkraut. (I'll have to replace that at some point.) I carefully chose 15 lids and I drew out where I wanted my holes drilled. (In groups of five) Josh and I talked about where to drill the lids and decided on the top edge.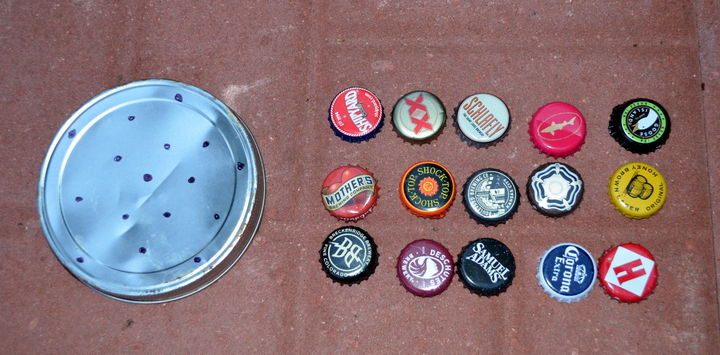 I drew out where Josh should drill.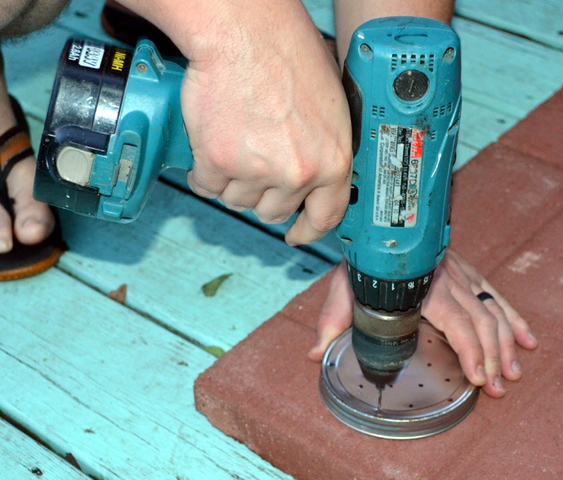 Josh used a 1/16 in drill bit to drill my holes. And added a hook to the center.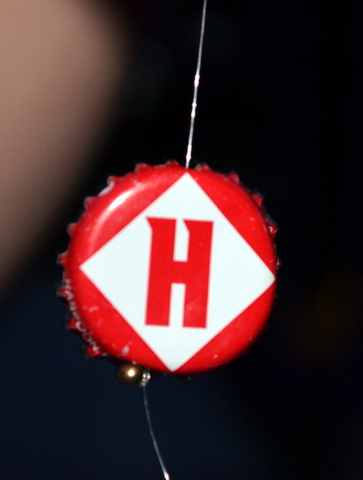 Next I threaded fishing line on a seed bead and tied a knot. The bead serves as a stop for the hole in the bottle cap. I threaded the other end through the top of the lid and tied another seed bead onto the fishing line to secure it.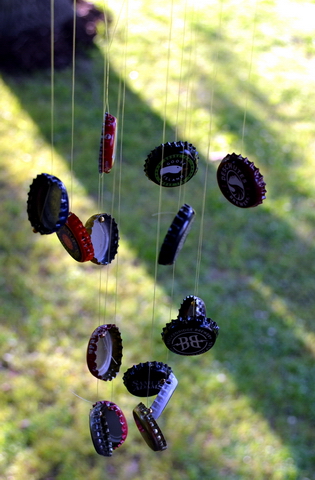 There are several ways you can arrange your bottle caps. I chose three layers. The outside layer I made the shortest the middle a bit longer and the very inside the longest. This made it like a chandelier. Don't let me fool you this part is a little tricky, but as usual, I wasn't too concerned with it being perfect.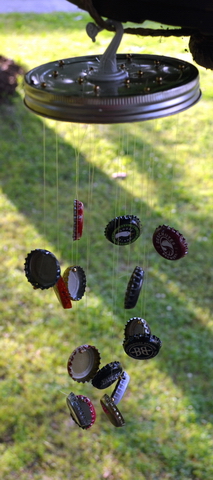 Josh and I really enjoyed this project and we plan to experiment with different methods and start having them in the Etsy store. (Oh hey, I have an Etsy store! Check it out here) If you'd like to make this project for yourself here are a few links to help you get started.
Have fun making this manly project and as always, Stay Crafty!

Comments
No comments made yet. Be the first to submit a comment
By accepting you will be accessing a service provided by a third-party external to https://aprildoesthat.com/