DIY Leather Tassels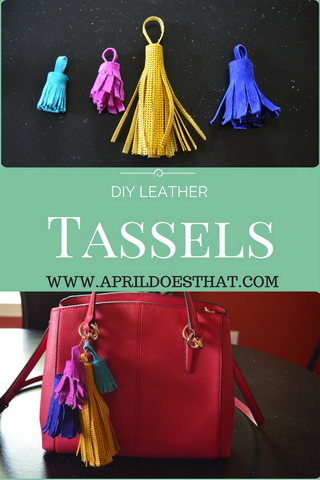 This post contains affiliate links. We are a participant in the Amazon Services LLC Associates Program, an affiliate advertising program designed to provide a means for us to earn fees by linking to Amazon.com and affiliated sites.
If you are a mom you probably know, remember or long for that precious moment when you feel like you can switch back to a regular purse from that giant diaper bag. Well friends I am there. I seem to get away with leaving the house with just diapers and wipes these days and I keep a change of clothes in the car. Baby girl is perfectly capable and insistent on carrying her own sippy so I am confident that the glorious moment has arrived. Maybe I should mope a little. After all baby girl is our last baby and leaving the diaper bag behind is a little symbolic that she is growing up. But instead I choose to celebrate the steps we're taking together. My big girl and I will both carry our own purses and they will be appropriately sized to our bodies instead of giant baby suitcases. Goodbye diaper bag it was great while it lasted.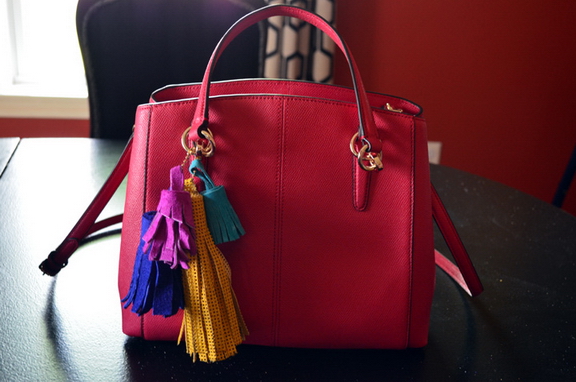 Hello my new beautiful purse. My first real name brand purse (it was a special early anniversary present) I was giddy picking out my purse over the weekend. It almost felt like that moment had finally arrived where I was a real adult woman with her first real purse. The mom purse. I'm embracing it you guys. This thing is sturdy, fashionable and functional. It'll have diapers and a pretty wallet. Kid snacks and my celly. I'm realizing more and more how little I actually need to carry with me. It's freeing and wonderful.
Well anyway! When I was buying my first big girl purse I was looking at all the pretty little tassels and baubles I could attach to it as well.
But I couldn't bring myself to pay $40+ for a leather tassel. I just couldn't do it. Quite awhile back I visited my local leather store and bought a couple bags of remnants on the cheap. I thought some day I'll use those! And today's the day. I happen to know how to make tassels and they are practically the easiest thing ever. Seriously! They almost make themselves. So let's do this; let's make some pretty little tassels for my brand new purse. Who does't need a few tassels in their life??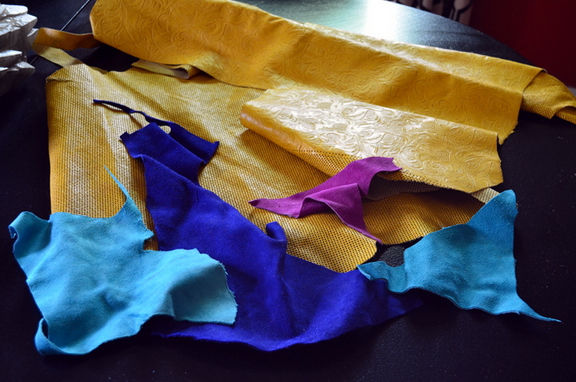 Supplies:
Leather
Scissors
Strong glue ( I used Leather Cement but I think you could try hot glue or craft glue)
Key Ring or Clip (optional)
I made all of my tassels different because that's just how I am. I'm not real big on uniformity and since my purse is very structured I wanted to bring it just a little more personality with my fun tassels.
1. Cut a strip of leather. It can be a perfect rectangle. Tall or short. Or angled to add texture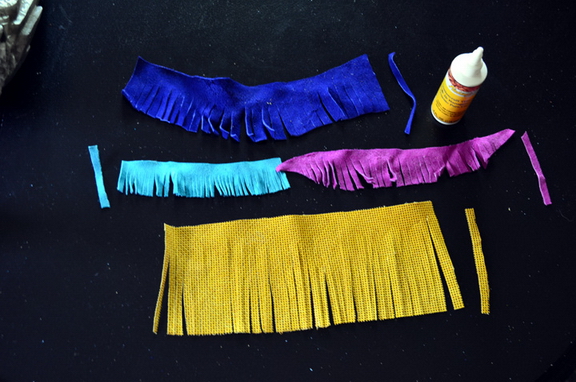 2. Cut knotches all the way across. This is the time to be a little uniformed in your sizes. It will look best if all the tassel pieces are approximately the same size, but you can choose to do very thin tassel pieces, super chunky or even angled slices. Be sure to stop about the same place around the top of your tassel.
3. Cut an extra piece of leather to be a loop. This is basically just a little rectangle strip.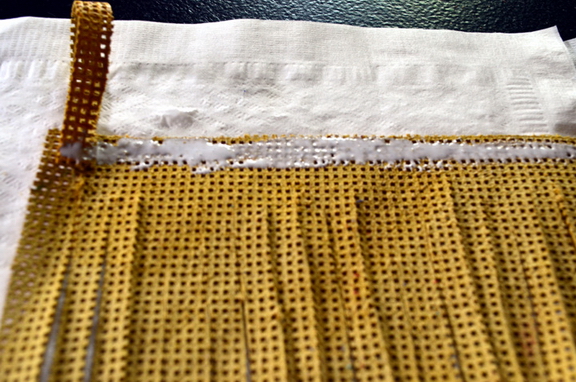 4. Glue down your loop on the inside of your tassel. Optionally you can add a keyring or clip inside your loop when gluing it down.
5. Put glue across the inside top and roll your tassel up.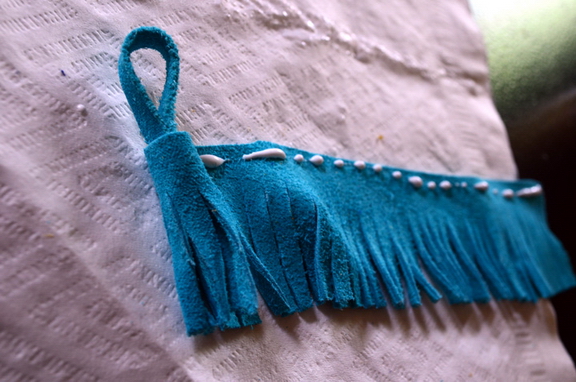 6. Be sure there's enough glue at the end to make it very secure.
7. Some other options are to make a few different colored strips to go across the top of your tassel or glue on jewels. The sky is the limit.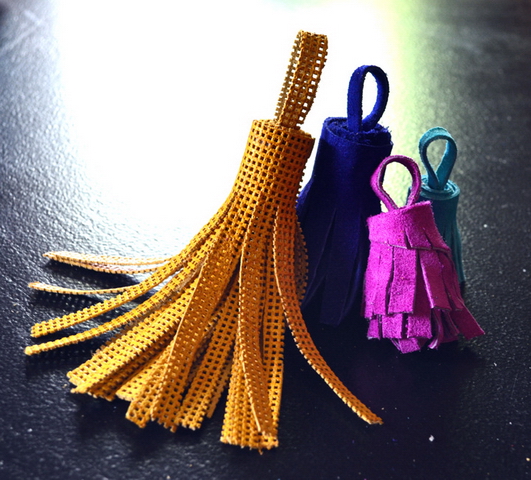 I hope you loved making these tassels as much as me. I ended up liking the way just two of them together on my purse looks. So that means you can win the pink and dark blue tassel. To enter like me on Instagram @aprildoesthat and tag one friend on the tassel post. I will pick a winner Friday April 21,2017.
So enter to win or make your own. Have you ever made tassels before? Want to try it out? Check out these supplies on Amazon.
What other leather projects have you done? Do you have some ideas for the rest of my leather stash?
Stay Crafty!

Comments
No comments made yet. Be the first to submit a comment
By accepting you will be accessing a service provided by a third-party external to https://aprildoesthat.com/