DIY Chalkpaint Couch Makeover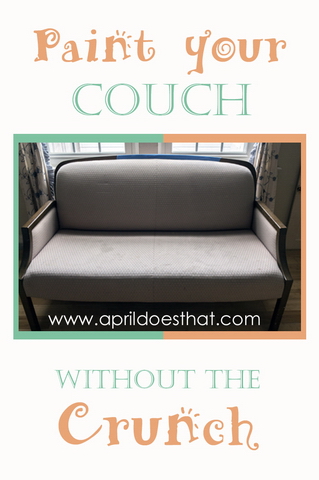 This post contains affiliate links. We are a participant in the Amazon Services LLC Associates Program, an affiliate advertising program designed to provide a means for us to earn fees by linking to Amazon.com and affiliated sites.
A guest post by Paige Everson
I bought this vintage settee for only 10 bucks. I always wanted some sort of stylish bench seating for the window side of my dining room table and this was the perfect size. That said, I never really liked the fabric.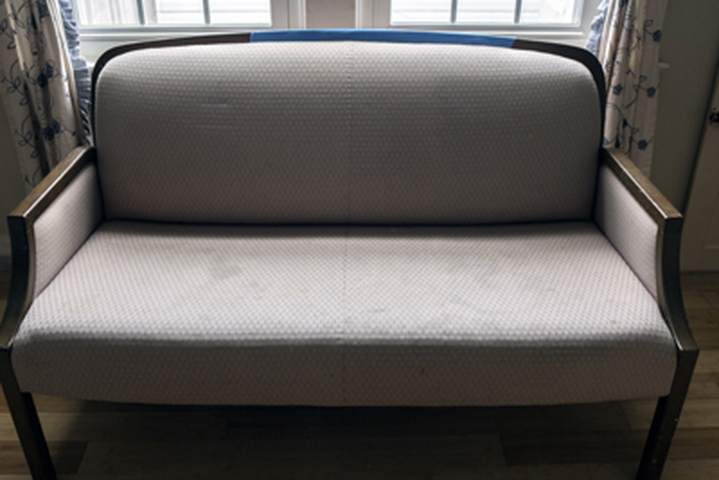 I mean, honestly, other than a baby's room, who decorates with pepto pink? In addition to the less than desirable color, there were a few deeply set in stains that were beyond removable and also some spots of sun fading.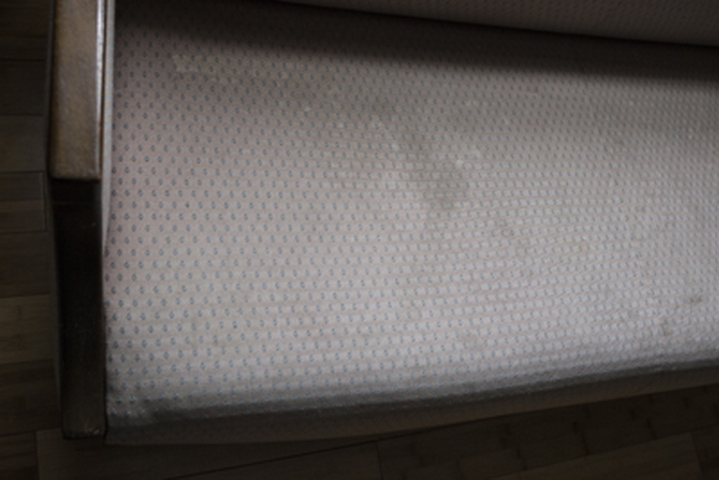 I thought about paying to have it reupholstered, but have you priced that out?! Yikes! It's kind of ridiculous. (I understand why, it's a dying art and all, but Mama's a thrifty DIYer, so…not happenin') After watching countless online tutorials I finally had the solution…painting the fabric! More specifically, chalk painting. I ordered a can of Annie Sloan chalk paint in Duck Egg and a can of clear wax. Each video had differing opinions on what technique to use. Some said use a 4-1 ration of paint to water and pre-soak the fabric with a water bottle. Others said to use 50/50 ration of paint to water, some of these said to pre-soak the fabric and some said you didn't need to because you were already using 50% water. I'm guessing more than one technique can work, but I went with a half paint, half water solution and did NOT wet down the fabric at all prior to painting. (Mostly because Better Homes and Garden didn't pre-soak theirs and they seem pretty legit) The paint was very watery, I just used a plastic recyclable soup container to store it. The fabric on this chair was a very stiff, firm feel to begin with, so I thought it was a perfect candidate for paint, as it would probably feel pretty close to the original texture when I was done.
I do have to admit, I was a bit concerned when I first started painting, the fabric was so drenched with watery paint it began to buckle and ripple.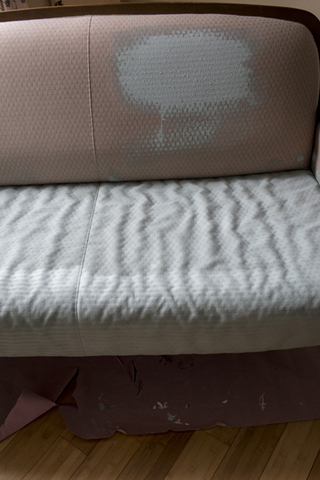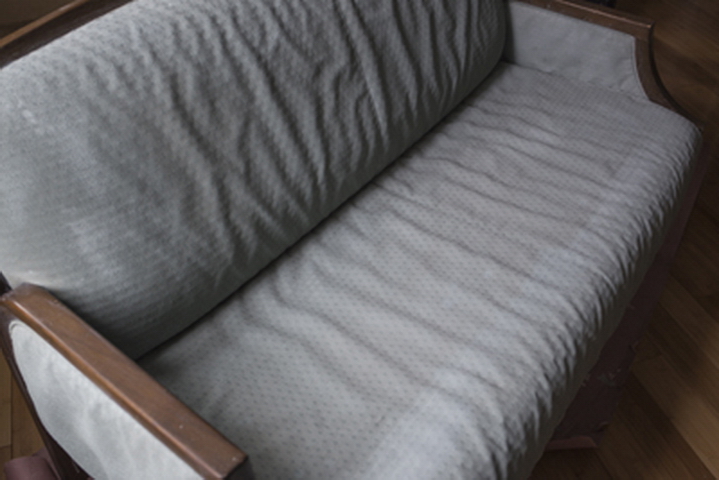 My super attractive hubs assured me that it would suck back in as it dried. And turns out he's got brains and beauty. LOL This is what it looked like after the first coat dried and I lightly hand sanded it with 220 grit paper.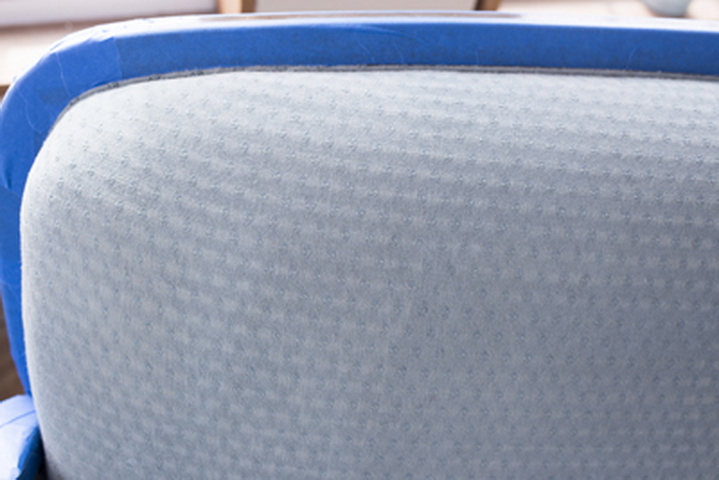 I started on my second coat and I immediately knew it was only going to take 2 coats total. If I had started with a darker color, it may have taken up to 4 coats, but that pink was so light, one coat almost completely covered it.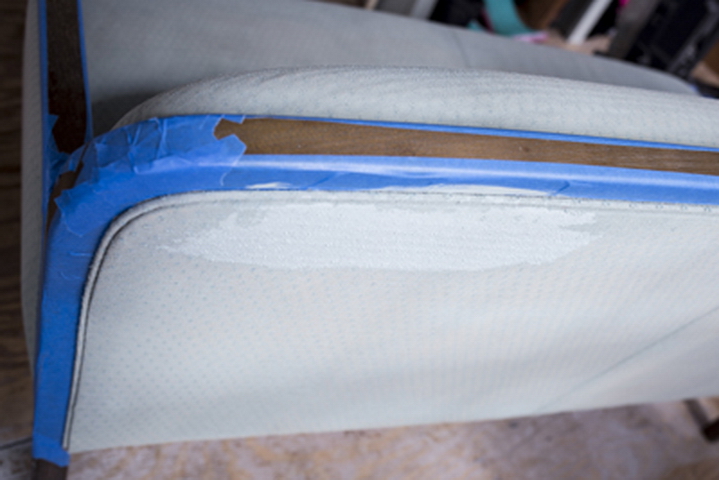 Again, the fabric began to buckle, but I was far less concerned this time around.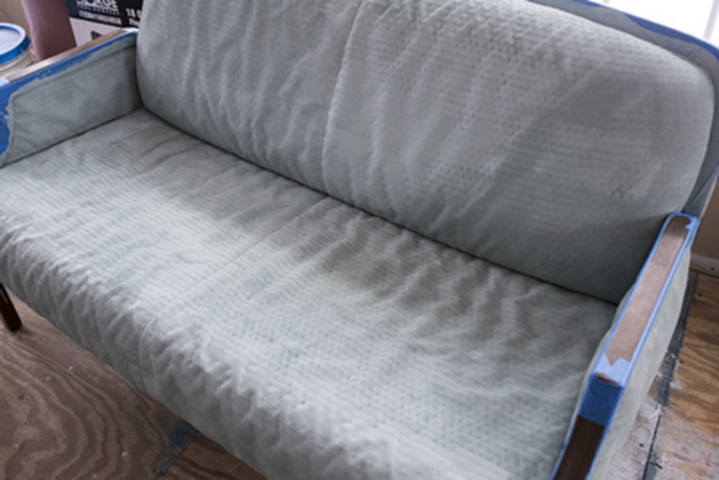 (*SIDE NOTE :: If you notice, by this time I had moved onto my unfinished porch. I did the first coat in my actual dining room and because the paint was so watery, it splashed a bit. The good news is that this watered down chalk paint cleans up easily off hardwood floors, even after it had dried. I just used a damp paper towel. Still, it seemed smarter to move to an area I didn't care as much about.)
After the second coat dried, I gave it another light hand sanding.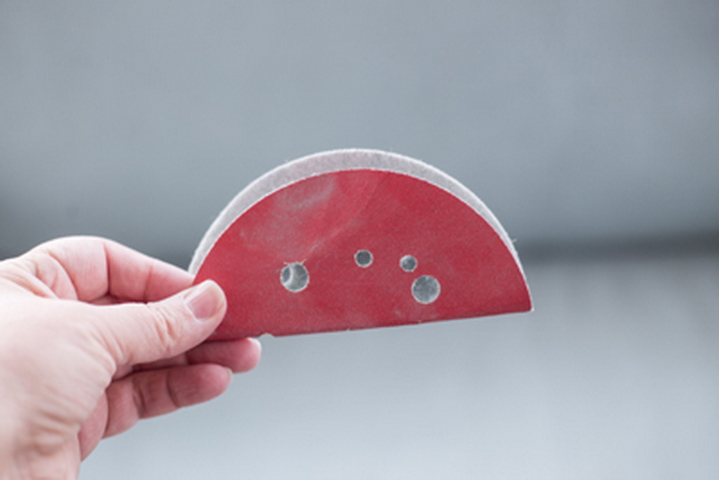 You don't need a fancy pants sanding block, just fold over whatever you have and sand away. After sanding, the fabric feels much softer and more pliable.
The last step was waxing.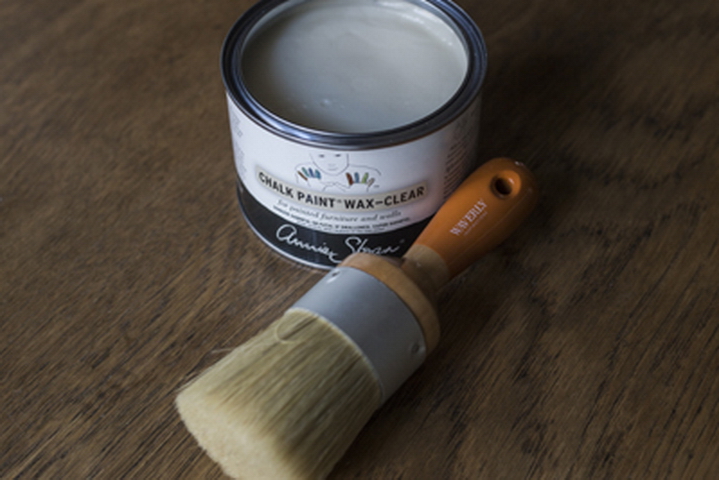 This step I just had to wing, as I was still a little unclear about it even after the myriad of Youtube assistance. I just brushed it on in light strokes making sure I got every inch, then I buffed it with an old t-shirt rag. It sealed in the color and left the texture feeling a bit leathery. I will warn you that, while the paint is odorless, the wax smells like shoe polish. So ventilation is a plus. The wax coat takes 48 hours to dry and 7 days to cure. We just left it on our porch until it was dry. Overall, I am pretty pumped about the results.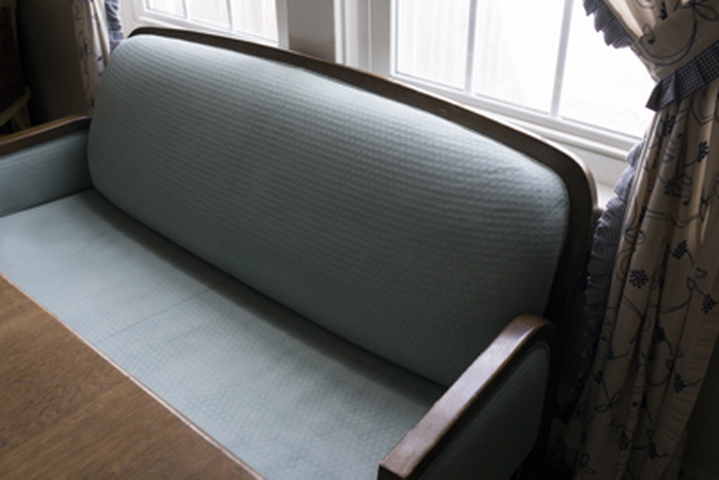 We were debating about painting the wood, but in the end we just cleaned it up with a damp cloth to remove any splotches of paint. I really like the dark wood against the duck blue. We just had guests over for dinner and games last night. They sat on this sweet little settee the whole night and never thought anything of it. So…not crunchy or weird. Yay!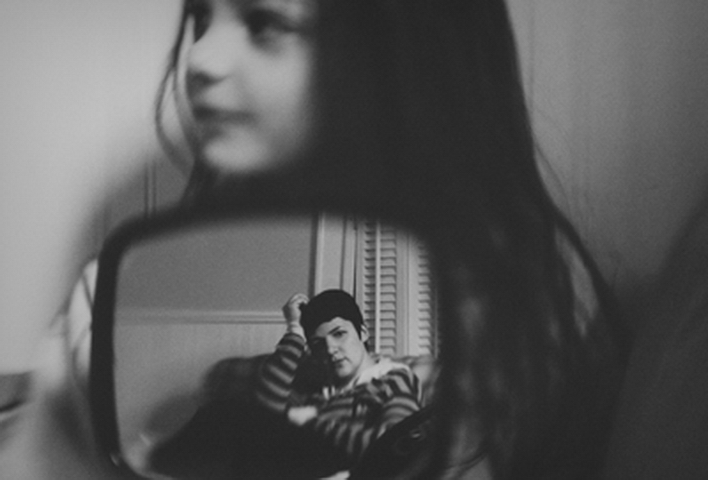 Paige Everson is a wife and homeschooling mama who loves to go junkin and repurpose old things into something new and fabulous. On the side, she runs a photography gig. Check out her gorgeous work at www.paigeeverson.com
Want to try this out yourself? Check out this list of similar supplies on Amazon
Comments
No comments made yet. Be the first to submit a comment
By accepting you will be accessing a service provided by a third-party external to https://aprildoesthat.com/