10 Tips for Thrift Shopping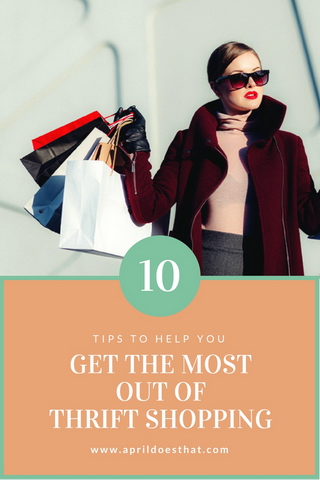 I love thrift shopping! I love to find a bargain or something one of a kind and unique. I love paying low prices. It gives me more versatility and variety in my purchases. I'd like to consider myself somewhat of an expert on this topic, so I put together a list of tips to try as you thrift shop.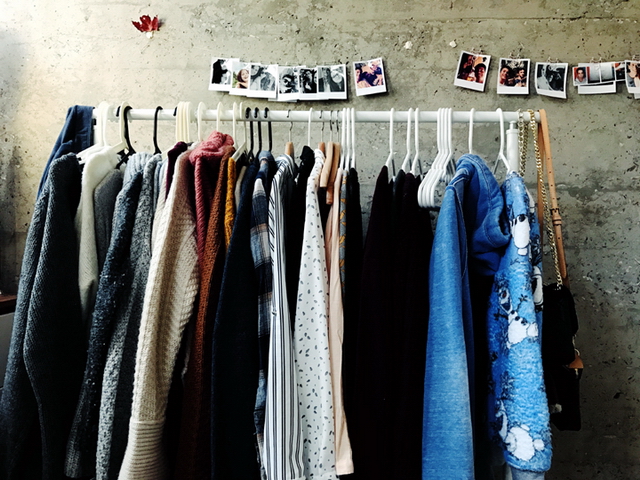 1. Know Your Thrift Store. There are a ton of thrift shops here in Springfield. I've taken time to visit most of them and I've decided what I look for in a thrift store. Value. Cleanliness. Organization. A dressing room. Nothing irritates me more than going into a 'thrift store' to find prices that I could pay at the mall for brand new items or at least brand new items on sale. A thrift store should be cheap! I won't shop somewhere with questionable hygiene. This includes nasty bathrooms or super gross employees but especially anything but clean clothing! The majority of the clothes should be hole-free and stain-free as well. I do not waste my time at unorganized thrift stores. Maybe I'm missing out on a treasures in those piles or unorganized hanging racks but many times I have my kids with me and simply don't have time for this nonsense. Lastly, I do not shop where I cannot try on. This goes for any store ever!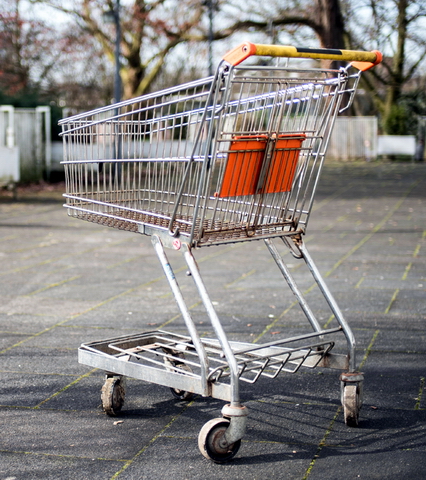 2. Get a Cart. I like to get a cart. It can be super annoying sometimes if the aisles are narrow, but I always end up needing one. I usually find a ton of stuff I'm interested in trying on. Before heading to the dressing room I sort through and take out any definitely nots.
3.Don't Worry About Brand Names. This is a no brainer for me because I've been thrifting for so long. Don't dismiss something cute just because it's not a brand name. If it looks good on you, who cares about the label! But this goes both ways. Just because something might be a great deal or a crazy brand name in your size doesn't necessarily mean it's going to look great on you or that's worth buying. If you don't love it, it's just going to sit in your closet.
4. TRY EVERYTHING ON! I think this is the most important tip of all! Try everything on or you are bound to be disappointed when you get home and things don't look like you thought they would. I know it takes extra time but it's so worth it. Just because a tag says it is your size does not mean it is going to fit you. Even if it is a bargain, clothes you will never wear are still a waste.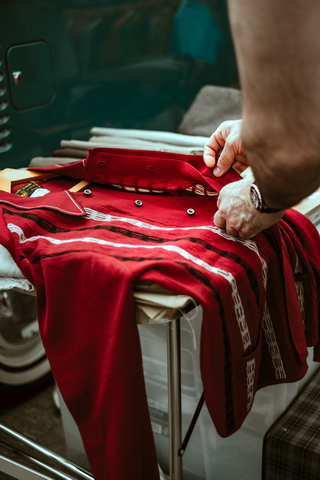 5. Carefully Inspect Your Clothing. Check for holes, missing buttons stains or shrinkage. This IS a thrift store after all. This can especially come to light in the dressing room and is another good reason to try on the clothes. If you do find something that you can perhaps fix or overlook be sure to bring it to the cashier's attention and you may receive a discount.
6. Join Rewards Programs! My favorite thrift store has a reward's program that earns me $10 off after so much spent. Check to see if your thrift store does something similar. If not, suggest that they start!
7. Keep Up With Sales. When you can get 50% off already outrageous prices, why not? Right? So ask about sales! Sign up for email lists or ask about social media pages you can follow to save more money.
8.Look Through Craft Supplies. If you're a crafter like me, look through those bins of craft supplies. They're usually hidings dirt cheap crafting supplies and even yards of fabric for unheard of prices. As you know, craft supplies cost you! I once got a huge blank canvas for $4 at the thrift store. The exact same canvas at the craft store cost over $20.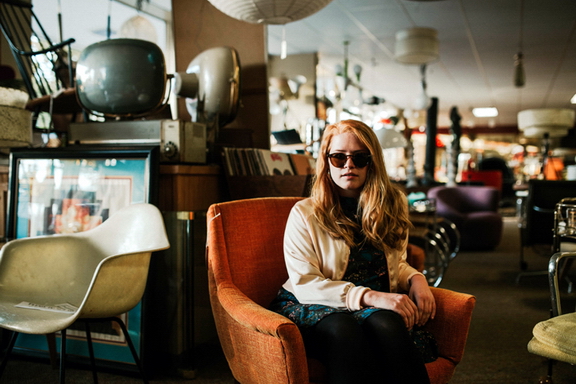 9. Help Someone Starting Out. Do you know someone just starting out in their first apartment or dorm? Kitchen supplies and dishes are super cheap at my local thrift store. Also decor and furniture is priced to sell. (Although, I would be very cautious with furniture, as you can't wash a couch. Carefully inspect all cushions and the inside of the couch to rule out any pests.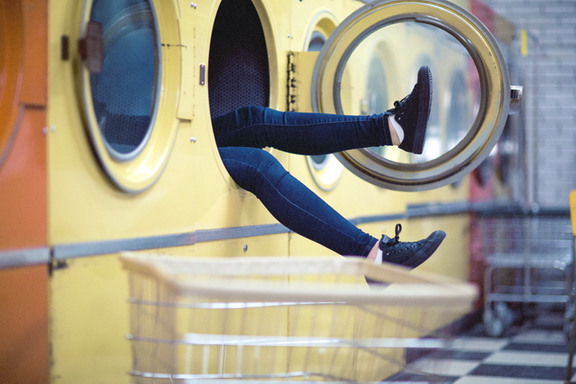 10. WASH EVERYTHING! The very first thing I do when I walk into the house is wash all my new clothes and clean any toys, knickknacks or anything else with disinfectant. If I ever bought furniture from the thrift store I'd probably shampoo or steam clean it, just to be safe.
Lastly, Flaunt it! Show off your new stuff! Want to see my latest thrift store haul? Well good! Because this is me flaunting my new outfits. (Accesories were previously owned.)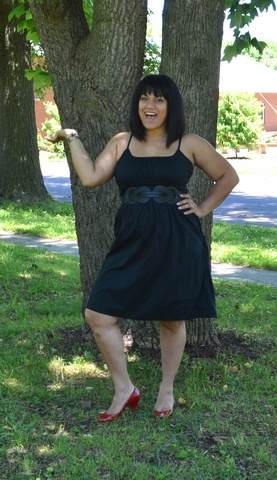 A LBD (little black dress) I love it because it's versatile! I can dress it up or down. I paired it with a leopard print bracelet, some vintage red shoes and a black belt.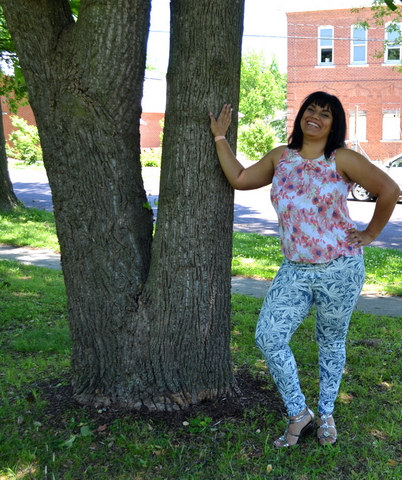 A floral outfit. Mixing prints is pretty in right now so I decided to give it a try. I chose these two pieces because they both have the same blue in them. But on the regular I can pair these more traditionaly with solids. I chose wedges and a peach wrap bracelet to go with them.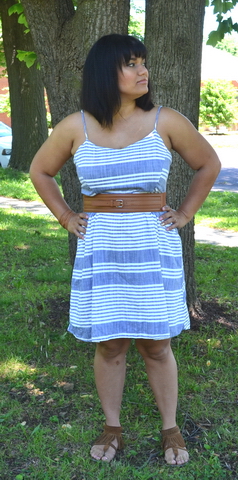 Lastly my striped dress! This is my favorite find. It is cute on it's own or with accessories. I feel like it could go from the grocery store to a date night depending on the accessories. Today I paired it with my moccasin sandals and a brown belt.
I also found a pair of brand new looking Rocket Dog shoes for $1. Yep one. dollar. Each dress was $5. The shirt was $3 and the pants were $3.
What do you think of my thrifty haul? Do you love my new outfits as much as me? Do you thrift shop? Show me your treasures! And as always Stay Crafty!

Comments
No comments made yet. Be the first to submit a comment
By accepting you will be accessing a service provided by a third-party external to https://aprildoesthat.com/